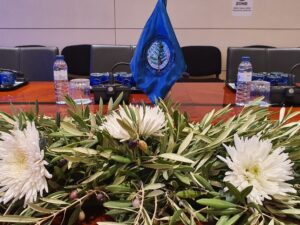 The IOC will award the winners and finalists of the 22nd edition of the Mario Solinas Quality Award at an award ceremony in the Guadalquivir Auditorium of IFEJA (Jaén, Spain). The event will take place during the 116th session of the Council of Members at 16:00 CET on 30 November 2022.
Log on to follow the ceremony and discover this year's winning extra virgin olive oils. For more information, click on the link below:
https://www.internationaloliveoil.org/what-we-do/chemistry-standardisation-unit/#national-competitions
The Mario Solinas Quality Award is an international, institutional and non-profit competition. It has been held every year since the 2000-2001 crop year, and companies from both member and non-member countries can take part. Its aim is to encourage producers, producer associations and packers to market extra virgin olive oils with harmonious organoleptic traits and to encourage consumers to recognise and appreciate the sensory attributes of these oils. This international competition rewards participants for their hard work and expertise in producing olive oils of the highest quality and allows consumers to discover the full range of flavours and aromas these oils have to offer.
The International Olive Council is the only intergovernmental organisation in the world that brings together stakeholders in the production and consumption of olive oil and table olives. This gives it a unique position as an authoritative forum for debate on issues of interest to the olive sector. Set up in Madrid, Spain in 1959 under the auspices of the United Nations, it has many objectives, including improving the quality of olive oils.
For this reason, in November 1993, the IOC decided to create an annual competition to find the best extra virgin olive oils in the world. This competition pays tribute to one of the most important promoters of the sensory analysis of virgin olive oil, the late Italian professor Mario Solinas, who did so much to further research and worked closely with the IOC to standardise quality criteria.
Follow us on Twitter @iocolivenews, LinkedIn (International Olive Council) and http://www.scoop.it/t/olive-news
Media contact: iooc@interationaloliveoil.org