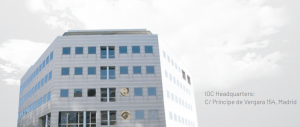 The Chargé d'Affaires ad interim of the Sudanese Embassy, Husam Eldeen Ettayeb, was received at his request by the Executive Director of the IOC, Abdellatif Ghedira, in the presence of the Head of the External Relations Department of the Organisation. Mr Ettayeb carried an official letter from his Minister of Agriculture expressing the willingness of the Sudanese government to join the IOC.
The Executive Director welcomed the news and thanked the Sudanese Government for its interest in the IOC and its mission. He said that he would be pleased to see Sudan raise its flag on the Organisation's forecourt. He also informed his guest of the steps necessary to make this accession a reality and to bring the Sudanese proposal to the attention of the Council of Members.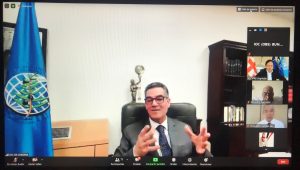 To support Sudan, the Executive Director proposed holding a videoconference meeting to present the IOC's activities in detail and to learn about the Sudanese olive sector and its expectations. The Sudanese chargé d'affaires welcomed the proposal and agreed to forward it to his authorities.
Le Soudan aux portes du COI
Le chargé d'affaires ad interim de l'Ambassade du Soudan, M. Husam Eldeen Ettayeb, a été reçu sur sa demande par le Directeur exécutif du Conseil oléicole international, M. Abdellatif Ghedira, en présence du chef du Département des relations extérieures de l'Organisation. M. Ettayeb était porteur d'une lettre officielle de son ministre de l'Agriculture exprimant la volonté du gouvernement soudanais de rejoindre le COI.
Le Directeur exécutif a accueilli cette nouvelle avec satisfaction et a remercié le gouvernement soudanais de l'intérêt qu'il porte au Conseil oléicole international et à sa mission. Il a indiqué qu'il serait heureux de voir le Soudan hisser son drapeau sur le parvis de l'Organisation. Il a par ailleurs informé son interlocuteur des mesures nécessaires pour concrétiser cette adhésion et pour porter à la connaissance du Conseil des Membres la proposition soudanaise.
Afin d'accompagner le Soudan dans sa démarche, le Directeur exécutif a proposé au diplomate soudanais d'organiser une réunion en visioconférence en vue de présenter en détail les activités du COI et de s'informer sur le secteur oléicole soudanais et sur ses attentes. Le chargé d'affaires soudanais a accueilli favorablement cette proposition qu'il transmettra à ses autorités aux fins de son organisation.