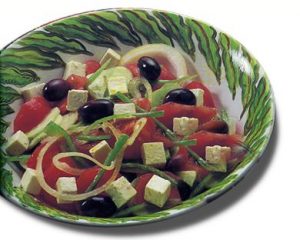 To serve 4:
3 firm tomatoes, quartered
1 cucumber, peeled and finely sliced
1 onion, peeled and sliced in thin rings
2 small green peppers sliced in rings
2 tbsp olive oil
2 tbsp vinegar
100 g feta cheese or dried goats' milk cheese, diced
2 dozen black olives
1 tsp parsley, chopped
Salt and pepper (optional)
Preparation:
Lightly toss all the ingredients together in a salad bowl.
Make a dressing with the oil and vinegar and pour over the salad.
Garnish with the diced cheese and olives and sprinkle with parsley.