Algeria

Chalda loubia khadra
Green bean salad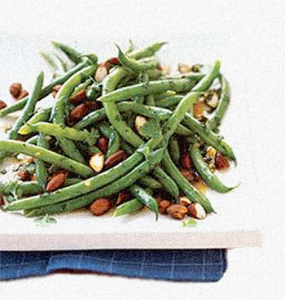 To serve 4:
½ kg fine green beans, topped and tailed
150 ml mayonnaise
3 tbsp parsley, finely chopped
1 tsp cumin
50 g almond slivers, toasted
50 g black olives
4 hard-boiled eggs, sliced
Salt
Preparation:
Cook the beans in boiling water with a little salt for 10-15 minutes (depending on thickness). Drain and leave to cool.
Mix the mayonnaise with the parsley and cumin.
Arrange the beans in the centre of a serving dish. Add the almonds and olives. Then lightly top with mayonnaise.
Decorate with slices of hard-boiled egg and serve.