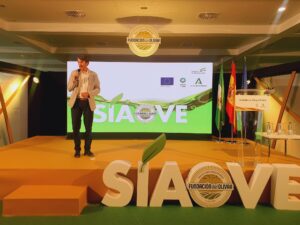 The sensory analysis platform used by the International Olive Council (IOC) was presented by the Fundación del Olivar on 11 May 2023, within the framework of the 21st edition of the International Fair of the Olive Oil and Allied Industries, Expoliva (Jaén, Spain, 10 – 13 May 2023). The IOC was represented on this occasion by the Deputy Executive Director, Jaime Lillo, the Head of the Department of Olive Chemistry, Yousra Antit, and the Head of the Laboratory and Panel Management Section, Ibtihel Khemakhem. The Fundación del Olivar was represented by its Director, Javier Olmedo Hernández, and the Head of its IT Department, Miguel Ángel Romera Ortega.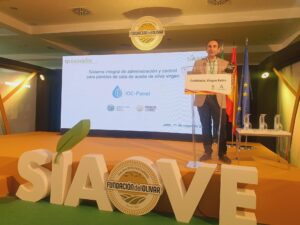 This digital sensory analysis platform for virgin olive oils for the management, control and harmonisation of virgin olive oil tasting panels was selected by the IOC through a public tender and is part of the Organisation's activities aimed at harmonising IOC-recognised tasting panels and minimising discrepancies between their results. The contract was awarded to the Fundación del Olivar in July 2022. It has already been used in two workshops for the harmonisation of IOC-recognised panels with satisfactory results.
The Deputy Executive Director, who stressed the importance of sensory analysis, recalled that the IOC is the intergovernmental organisation responsible for developing standards, defining categories and elaborating methods of analysis – including sensory analysis – and that more than 100 tasting panels have been recognised by the IOC.
The representatives of the Fundación del Olivar explained the aim and the use of this platform, insisting on its utility during daily tasting sessions as it saves time and facilitates the work of the panel leaders by helping them to better manage the tasting sessions and the tasters.