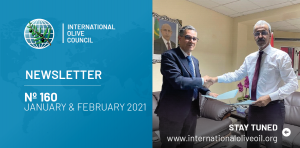 Newsletter 160 is now available, on the work and diplomatic activities carried out by the Executive Secretariat in the first two months of 2021. As usual, the newsletter is available in English, French and Spanish. This edition includes data on price trends for January and February 2021 and spotlights on the Chinese market and surprising changes in consumption over the last 30 years
We hope you enjoy reading it.
NEWSLETTER COI 160
Le numéro 160 de la Newsletter porte sur le travail et les activités diplomatiques menées par le Secrétariat exécutif au cours des deux premiers mois de l'année 2021. Comme d'habitude, la lettre d'information est disponible en anglais, français et espagnol. Cette édition comprend des données sur l'évolution des prix en janvier et février 2021, ainsi que des informations sur le marché de l'huile d'olive en Chine et sur les changements surprenants de la consommation au cours des 30 dernières années.
Nous vous souhaitons une agréable lecture.