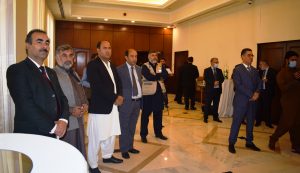 On the second day of the Executive Director's mission, the IOC held a videoconference for the diplomatic corps of the member countries and Pakistani officials involved in national plans to develop their olive sectors.
The meeting brought together the Deputy Executive Director and the Heads of the Operational Units, who presented IOC activities to officials from the Pakistani Ministry of Agriculture and ambassadors from Madrid.
At the end of the meeting, the Executive Director held a press conference to explain the purpose of his visit to Pakistan. The Pakistani officials then presented their plan to develop their olive sector and to solemnly and officially announce their willingness to join the IOC family as soon as possible.
In the early evening, the IOC delegation was invited to a reception hosted in their honour by H.E. Borhene El Kamel, Ambassador of Tunisia to Pakistan. Several officials from the Pakistani Ministry of Agriculture and Foreign Affairs as well as representatives from the private sector accepted the invitation. The Ambassadors of Algeria, Libya, Morocco and Palestine were also present.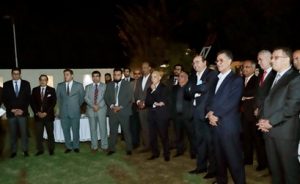 This reception provided an opportunity to deepen talks with the Pakistani party, to reinforce their approach and to assure them of the IOC's assistance.
At the time of departure, the Tunisian Ambassador asked the Executive Director to do him the honour of planting an olive tree in the garden of his residence. The appointment was set for Sunday 24 October 2021.
Premiers résultats de la mission du COI au Pakistan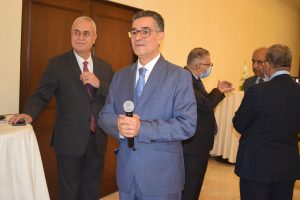 La deuxième journée de la mission du Directeur exécutif a été consacrée à une visioconférence organisée par le Conseil oléicole international au profit du corps diplomatique des pays membres et aux officiels pakistanais engagés dans le plan de développement du secteur oléicole de leur pays.
La visioconférence a réuni le Directeur exécutif adjoint et les chefs des Unités opérationnelles qui ont, depuis Madrid, présenté les activités du COI aux officiels du ministère de l'Agriculture pakistanais et aux ambassadeurs.
Au terme de cette rencontre, une conférence de presse a permis au Directeur exécutif d'expliquer le but de sa visite au Pakistan et aux officiels pakistanais de présenter leur plan de développement du secteur oléicole et d'annoncer solennellement et officiellement leur volonté de rejoindre la famille du COI dans les meilleurs délais.
En début de soirée, la délégation du COI a été invitée à une réception organisée en son honneur par S.E. Borhene El Kamel, ambassadeur de Tunisie au Pakistan. Plusieurs responsables du ministère de l'Agriculture et des Affaires étrangères pakistanais ainsi que des représentants du secteur privé avaient répondu à l'invitation. Les ambassadeurs d'Algérie, de Libye, du Maroc et de Palestine étaient également présents.
Cette réception a été l'occasion d'approfondir les pourparlers avec la partie pakistanaise, de la conforter dans sa démarche et de l'assurer de l'assistance du COI.
À l'heure du départ, l'ambassadeur de Tunisie a demandé au Directeur exécutif de lui faire l'honneur de planter un olivier dans le jardin de sa résidence. Le rendez-vous a été pris pour le dimanche 24 octobre.