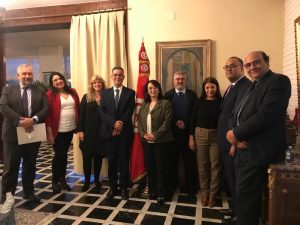 On the occasion of the celebration of World Olive Day, the Embassy of the Tunisian Republic in Spain, together with Mrs. Fatma Omrani Chragui, Ambassador of Tunisia in Spain, organised an event with heads of diplomatic missions and Spanish press to present the history of Tunisian olive oil, its high quality and rich variety.
The event was organised in the presence of Mr. Abdellatif GHEDIRA, Executive Director of the International Olive Oil Council (IOC) and Mrs. Mercedes Fernandez, Head of the Standardisation and Research Unit of the IOC.
The Tunisian Ambassador recalled that, for thousands of years, olive oil has figured prominently in all the great civilisations that have flourished in Tunisia. The olive tree has been cultivated by Phoenicians, Carthaginians, Romans and Arabs in a tradition handed down from father to son ever since.
For his part, the Executive Director of the IOC, Mr. Abdellatif Ghedira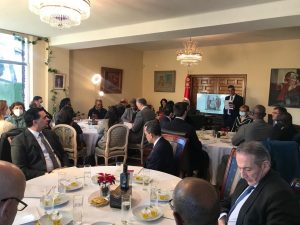 explained the activities and initiatives implemented by the Council to support cooperation between Member States and stressed the importance of Tunisia, as a founding country of this international intergovernmental organisation, in supporting its activities.
The presentations were followed by a tasting session of several varieties of Tunisian extra virgin olive oils, including those awarded in the "Mario Solinas" International Extra Virgin Olive Oil Competition, as well as a tasting of several typical Tunisian dishes made from Tunisian olive oil varieties such as Chemlali and Chetoui.
Tunisian olive sector in figures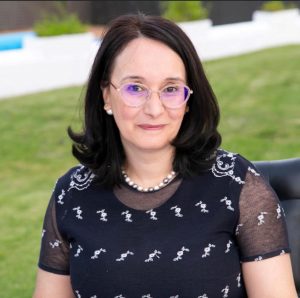 According to the Ambassador, H.E. Mrs. Fatma Omrani Chragui (pictured), Tunisia is the country with the second largest olive-growing area globally, after Spain, with 1.9 million hectares and almost 100 million olive trees. The olive sector also has more than 1,600 olive mills, 60 bottling plants and 200 exporting companies. Tunisia is the world's second largest exporter with an average production of 172,000 tonnes of olive oil in the last five years. In terms of organic olive oil, Tunisia is the leading exporter of this product to the European Union.
IOC World Olive Day was proclaimed at the 40th session of UNESCO's General Conference in 2019, and will be celebrated on 26 November each year. The proposal was submitted by Tunisia 🇹🇳 and Lebanon.
Recently, Tunisian efforts have been made at various levels to improve the quality and traceability of olive oil. In fact, Tunisian oils are being recognised worldwide and have won more than 100 awards in prestigious competitions in 2020, such as the Los Angeles, New York, London and Japan competitions. Tunisian oil has also won the "Mario Solinas 2021" Quality Award, mature fruity category, awarded by the International Olive Council.
At the recent edition of the International Olive Oil Fair EXPOLIVA 2021, Tunisia received the first international olive oil award in recognition of its important role in this sector worldwide from the hands of the Jaén City Council and was also chosen as the first guest country at the next edition of this fair "EXPOLIVA 2023".