The Executive Secretariat enhances its Olive Growing, Olive Oil Technology and Environment Unit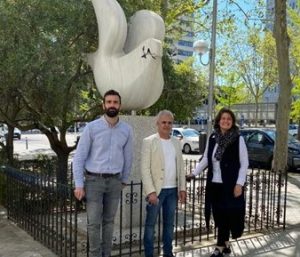 The Olive Growing, Olive Oil Technology and Environment Unit, headed by Abdelkrim Adi, gained a new member: Pablo Morello Parras, who has taken up the post of Head of the Olive Oil Technology and Environment Department. He will work alongside the Head of the Technical Cooperation and Training Department, Catarina Bairrao Balula.
Together, the team will develop the Unit's plans for the next four years: the identification, conservation and use of the genetic resources of the olive tree; the system for certifying olive tree seedlings; the classification and registration of the main genetically authenticated varieties of the olive tree in the form of a world catalogue; the study of olive tree behaviour in the face of climate change; and ways to reuse the by-products of the olive industry.
The Unit also provides expertise to help develop the olive sector in IOC member countries, particularly through setting up laboratories and tasting panels to make sure standards are applied correctly and appropriate measures are taken to solve technical problems. Also among the Unit's tasks are strengthening the role of the IOC as a forum of excellence in olive growing and olive oil technology, collaborating with universities and specialised institutions, and promoting the application of IOC trade standards.