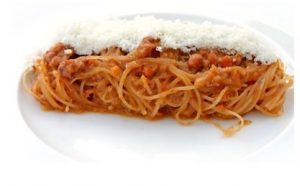 To serve 4:
500 g squid
½ kg potatoes
2 cloves garlic
Parsley
100 ml olive oil
1 tbsp mixed spices
Salt and pepper
Preparation:
Clean, wash and slice the squid into 2 cm wide strips. Peel and thinly slice the potatoes. Chop the garlic and parsley.
Pour half the oil into an oven-proof casserole dish, spread a layer of potato and sprinkle with salt. Then spread the squid over the potato, sprinkle with pepper, garlic, parsley and mixed spices and cover with the remaining potato. Sprinkle with more parsley and salt and pour the remaining oil on top.
Cover (must be cooked in a covered dish so that squid remain juicy and require no basting) and cook in oven pre-heated to Gas Mark 7 (220ºC) for about 45 minutes. Serve with a seasonal salad.