Executive Director on mission to Uruguay – After meeting with officials from the Uruguayan Ministry of Foreign Affairs on 5 April 2022, Executive Director Abdellatif Ghedira and the Head of the External Relations Department, Mounir Fourati went to the headquarters of the Ministry of Livestock, Agriculture and Fisheries, where they were welcomed by its Minister Fernando Mattos Costa and by the Minister of Industry, Energy and Mines, Omar Paganini.
Mr Ghedira reiterated his thanks to the Uruguayan officials for the invitation to Uruguay and outlined some of the ideas discussed at the Ministry of Foreign Affairs. The meeting between the two parties focused on the future of the Uruguayan olive sector, its profitability and the search for quality.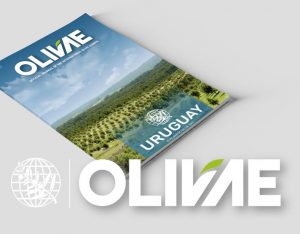 The Executive Director pointed out that supply hardly met the demand of the world market and that there was therefore no competition. He added that the battle for new markets was more about quality.
Several other topics were discussed, including productivity, consumption and foreign investment. The Executive Director insisted on the comparative advantages of the country, such as its climate, geographical position and hydraulic resources, which are all assets to draw in investors, especially as the price of olive oil is becoming attractive. With such an ambitious plan to develop the olive sector, Uruguay could become a major regional player in the field.
At the end of the meeting, the Uruguayan officials asked the IOC for its support, technical assistance and expertise. The officials praised the efforts and fruitful collaboration between the two parties. They also welcomed the publication of the latest issue of Olivæ devoted entirely to the Uruguayan olive sector.
As usual, gifts were given to the ministers and souvenir photos were taken.