Madrid – The 13th meeting of the working group on statistics monitoring of the IOC took place on 3 November at IOC headquarters. The Executive Director, Abdellatif Ghedira, and the Deputy Directors, Jaime Lillo and Mustafa Sepetçi, welcomed participants and underlined the importance of this group for gathering statistics and economic information on the olive sector. Economic activity is regulated by the International Agreement on Olive Oil and Table Olives 2015. The objectives of the Agreement include examining the world balance sheets on olive oil, olive-pomace oil and table olives, conducting studies and proposing relevant measures, disseminating economic analyses and data on olive oil and table olives, and providing IOC Members with the indicators they need so the olive products markets run smoothly.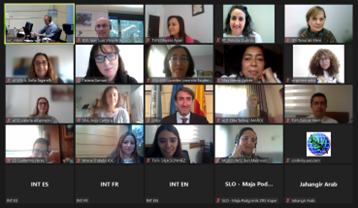 Some of the participants in the meeting.
Participants discussed the IOC's proposed objectives related to statistics: to provide users with statistical data that is relevant, accurate, reliable, timely, consistent and comparable. The following are some of the topics discussed:
Monitoring the production, consumption and imports and exports of olive oils and table olives in the main markets
Price systems for producers, consumers and import and exports
Development of supply and demand estimates, in terms of value and volume
Short-term statistics system
Indicator system
Economic projections
Market research and other economic and statistical work on the sector.
Various reports are being prepared and published on the IOC website to help achieve these objectives. The latest reports provide information on the Harmonised Index of Consumer Prices, table olive imports and consumer behaviour. Participants also discussed new projects the IOC could launch, including setting up a confidence index for the sector, achieving 100% coverage on import and export statistics for olive oils and table olives, and the search for new ways to collect information through big data. Finally, the experts gave a detailed presentation on the olive sector in their respective countries, covering the following:
The method used to compile data
Current state of olive growing in their country
Production trends by product category
Trends in the olive growing area 2020/21
Projects to expand the national olive sector
Challenges facing the sector
Causes of rising or falling production/consumption
Impact of prices on the olive sector
This information is essential for understanding the dynamics of the sector at the international level, both in the short and long term, as well as for understanding what direction the plans of action might take in terms of statistics and economic information.
World production for the 2020/2021 crop year.
https://www.internationaloliveoil.org/what-we-do/economic-affairs-promotion-unit/#prices