On November 26th last, in Tbilisi, the IOC celebrated World Olive Day with a major international symposium. The message that emerged from this event is that every day would be the World Olive Day.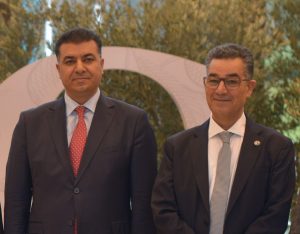 Institutional greetings included those of the Minister of Agriculture of the Kingdom of Jordan, H.E. Eng. Khaled Musa Al Henefat, current president of the IOC; the Deputy Prime Minister and Minister of Environmental Protection and Agriculture of Georgia,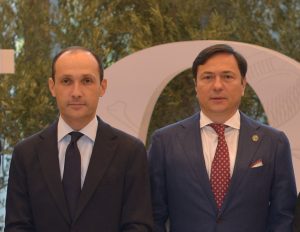 H.E.  Levan Davitashvili and the outgoing president of the IOC Mr George Svanidze, the Executive Director of the IOC, Mr Abdellatif Ghedira recalled that the Executive Secretariat has promoted an international collaboration with the Culinary Institute of America  on the subject of promoting the consumption of extra virgin olive oil in the culinary arts.
The objectives of this project are illustrated as follow:
Disseminate IOC standards and scientific information related to composition, physico-chemical, organoleptic, nutritional and gastronomic characteristics of olive products and their uses in a healthy and sustainable diet.
Flesh out possibilities around the culinary heritage of Mediterranean olive oil–based sauce-making traditions.
Research, within the campus dining operational environment, which of these healthy, Mediterranean sauce traditions hold the most promise.
Identify the best, untapped strategies for sourcing and using olive oil in terms of quality standards, varietals, and budget constraints within campus dining.
Continue to bring IOC and its projects closer to different stakeholders.
For further information you can reach this link: https://www.plantforwardkitchen.org/olive-oil-and-the-plant-forward-kitchen
You can link also to this project clicking on the head title CULINARY on the top of the IOC's  webpage