H.E. Burak Akçapar, Ambassador of Turkey to Spain, paid a c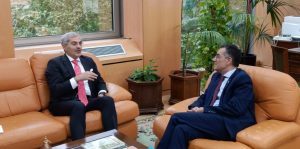 urtesy call on Executive Director of the IOC AbdellatGhedira, who welcomed him together with Deputy Executive Director Mustafa Sepetçi and Head of the External Relations Department Mounir Fourati.
The meeting focused on cooperation between Turkey and the IOC. The Turkish Ambassador took the opportunity to congratulate the Executive Director for the Executive Secretariat's excellent work and for the dynamism and good governance of the executive directorate.
Mr Ghedira thanked his guest for his kind words and pointed out that the role of the Organisation is to implement the decisions taken by the Member States and that congratulations should be addressed to the experts who prepare all the work upstream.
The Executive Director suggested boosting the Turkish presence in the expert groups, so that the country could contribute more to the decision-making process.

Several other topics were discussed, including the elimination of the ordinary category of olive oil, Turkey's participation in the Codex Alimentarius, the Executive Director's mission to Izmir in the coming weeks, the 115th session of the Council of Members and the 58th meeting of the Advisory Committee in June in Amman, as well as Turkey's growing role in the Council.
At the end of the meeting, and after exchanging gifts, souvenir photos were taken to mark the visit.