On 29-30 March 2022, the final event of the MED-GOLD project took place. The showcase provided an insight into the lessons learned during the project, possibilities for scaling up and the relevance of climate services like those developed in MED-GOLD for policy and society.
On the second day, the Talking Climate for Policymaking session was held, which focused on the link between the climate and policies to highlight overlapping needs, success stories and best practices to aid adaptation and the green transition. The Deputy Executive Director of the IOC, Jaime Lillo, had the pleasure of being on the panel and sharing the floor with representatives of important institutions in the sector: Adriana Ignaciuk, from the Food and Agriculture Organisation of the UN; Onélica Andrade, the Climate and Energy Policy Officer (EU DG Research); and Hanne Knaepen, from the European Centre for Development Policy Management.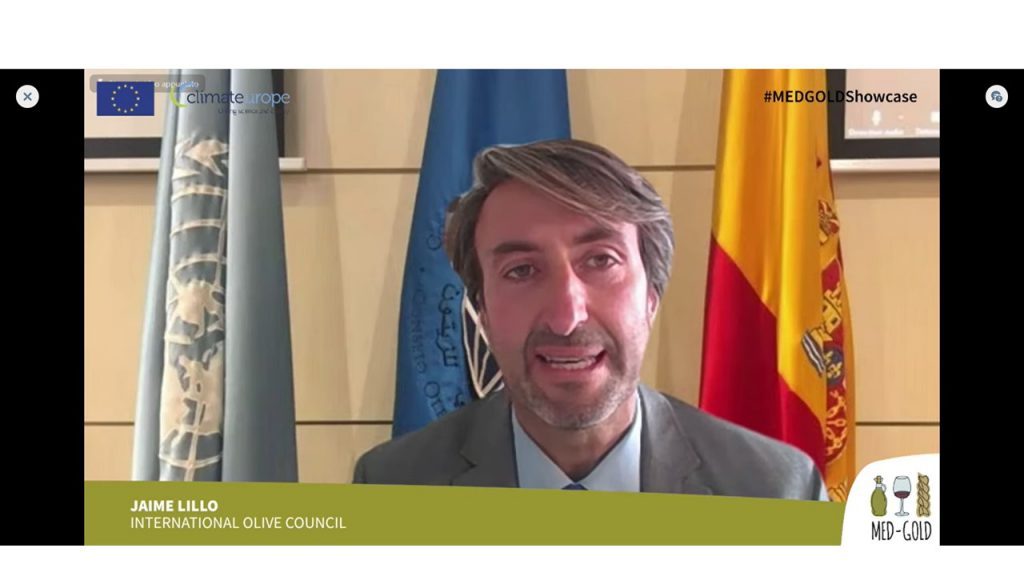 The IOC was a stakeholder in this project to 'transform climate-related information into added value for traditional MEDiterranean Grape, Olive and Durum wheat food systems' (MED-GOLD). The IOC played a role in activities to analyse the findings, which will help olive growing in the EU and elsewhere.
The main objective of the MED-GOLD project is to develop novel pilot climate services focusing on three staples of the Mediterranean food system: grapes, olives and durum wheat. The long-term objective of MED-GOLD is to make European agriculture and food systems more resilient, sustainable and efficient in the face of climate change, by using climate services to minimise climate driven risks/costs and seize opportunities for added value.
Further information is available on this link: https://www.med-gold.eu/es/home-page-es/