Abdellatif Ghedira, the Executive Director, and Mounir Fourati, the Head of the External Relations Department,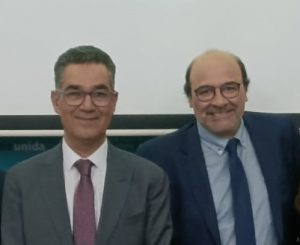 met with the heads of the National Institute of Agricultural Technology (INTA) and the National Service of Agri-Food Health and Quality (SENASA) in Argentina on 11 April 2022. They were welcomed at the headquarters of the Ministry of Agriculture, Livestock and Fisheries by the Argentinean representative to the IOC, Sofia Tagarelli, and by Dr Carlos Parera, the National Director of INTA.
Videos covering the main activities of the two institutions allowed the IOC delegation to verify the technical capacities and skills of these centres to conduct advanced research into olive cultivation, and to consider their wish to have their national germplasm bank recognised by the IOC as an international bank.
Mr Ghedira said he was impressed by the technical mastery of these institutions and congratulated them on their excellent work. He pledged his support for the Argentinean project, expressing his belief in the drive to create a regional germplasm bank, given the specific climatological characteristics of the American subcontinent.
He also encouraged Argentines to increase not only olive oil production but also its consumption, which remains very low (0.2 kg per capita per year).
He also emphasised quality, proposing, after consultation with IOC experts, to reintroduce a category specific to the southern hemisphere into the basis of the Mario Solinas Quality Award.  Consultations on the issues raised will continue on Tuesday 12 April 2022, with a meeting scheduled between the Executive Director and the Argentine Minister of Agriculture, Livestock and Fisheries.

Executive Director on mission to Argentina (1)