For the first time in the history of the IOC, World Olive Day was celebrated away from IOC headquarters, in the magnificent Ceremonial Palace of Georgia in Tbilisi.
To mark the event, the Executive Secretariat, alongside the Presidency and Government of Georgia, held an international seminar on trends in the international market of olive oil.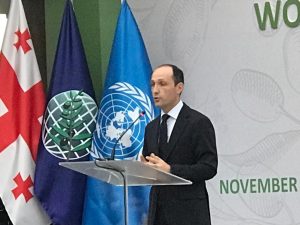 Welcome speeches were given by Levan Davitashvili, Vice Prime Minister and Minister of Environmental Protection and Agriculture of Georgia; Natela Turnava, Minister of Economy and Sustainable Development of Georgia; George Svanidze,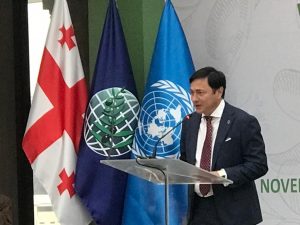 Chair of the IOC; Abdellatif Ghedira, Executive Director of the IOC; Janusz Wojciechowski, European Commisioner for Agriculture; Kaled Musa al Henefat, Minister of Agriculture of the Kingdom of Jordan; and Mahmoud Elyes Hamza, Minister of Agriculture, Water Research and Fisheries of Tunisia.
During the technical seminar, detailed presentations were given on a wide range of topics. Jaime Lillo, the Deputy Executive Director of the IOC, discussed the international market of olive oil. Gabriel Vigil, who covers the olive sector at the European Commission, presented the EU market and current trends, and Joseph R. Profaci, the Executive Director of the North American Olive Oil Association, presented the US market. Juan Vilar, the co-director of the master's degree in the administration and management of olive companies, presented the profile of the global olive oil consumer, and Santi Mas presented the Plant Forward Kitchen on behalf of Greg Drescher, vice-president of strategic initiatives and industry leadership at the Culinary Institute of America.
The final speech on the production of olives in Georgia, on the current situation, challenges and perspectives, was given by Zviad Bobokashvil, Head of the Department of Fruit Crop Research of the Georgian Scientific Research Centre of Agriculture.
The IOC celebrates World Olive Day, which was officially recognized by UNESCO in 2019, on 26 November every year. To promote this important event, the Executive Secretariat works with and provides support for delegations from member countries, representatives from the sector, local authorities, observatories and members of the diplomatic corps from countries that have signed the International Agreement on Olive Oil and Table Olives 2015.
More detailed information on the presentations will be available soon.
In the meantime, enjoy some beautiful photos taken on this special day.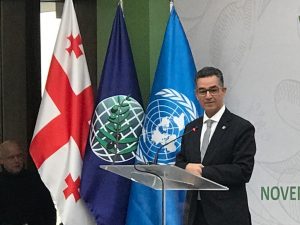 Tbilissi célèbre la Journée mondiale de l'olivier 2021
Tbilissi – la première fois dans l'histoire du COI, la Journée mondiale de l'olivier a été célébrée hors du siège de l'Organisation, dans le magnifique Palais des cérémonies de Tbilissi, en Géorgie.
Pour marquer l'événement, le Secrétariat exécutif, en collaboration avec la présidence et le gouvernement de Géorgie, a organisé un séminaire international consacré aux tendances du marché international de l'huile d'olive.
Des discours de bienvenue ont été prononcés par Levan Davitashvili, vice-premier ministre et ministre de la Protection de l'environnement et de l'Agriculture de Géorgie ; Natela Turnava, ministre de l'Économie et du Développement durable de Géorgie ; George Svanidze, président du COI ; Abdellatif Ghedira, Directeur exécutif du COI ; Janusz Wojciechowski, commissaire européen à l'Agriculture ; Kaled Musa al Henefat, ministre de l'Agriculture du Royaume de Jordanie ; et Mahmoud Elyes Hamza, ministre de l'Agriculture, des Ressources hydrauliques et de la Pêche de Tunisie.
Au cours du séminaire technique, des exposés détaillés ont été consacrés à un large éventail de sujets. Jaime Lillo, Directeur exécutif adjoint du COI, a parlé du marché international de l'huile d'olive. Gabriel Vigil, responsable du secteur oléicole à la Commission européenne, a commenté les tendances du marché de l'UE, et Joseph R. Profaci, Directeur exécutif de la North American Olive Oil Association, a décrit le marché américain. Juan Vilar, co-directeur du Master en administration et gestion des entreprises oléicoles, est intervenu sur le profil du consommateur mondial d'huile d'olive et Santi Mas a présenté le projet Plant Forward Kitchen, en représentation de Greg Drescher, vice-président des initiatives stratégiques et du leadership industriel au Culinary Institute of America.
Le discours final sur le secteur oléicole de la Géorgie, sa situation actuelle, ses défis et ses perspectives, a été prononcé par Zviad Bobokashvil, chef du Département de recherche sur les cultures fruitières au Centre de recherche scientifique agricole de Géorgie.
Le COI célèbre la Journée mondiale de l'olivier, qui a été officiellement reconnue par l'UNESCO en 2019, le 26 novembre de chaque année. Pour promouvoir cet événement important, le Secrétariat exécutif collabore et apporte son soutien aux délégations des pays membres, aux représentants du secteur, aux autorités locales, aux observatoires et aux membres du corps diplomatique des pays signataires de l'Accord international de 2015 sur l'huile d'olive et les olives de table.
Des informations plus détaillées sur les exposés présentés seront bientôt disponibles.
En attendant, profitez de quelques belles photos prises lors de cette journée spéciale.