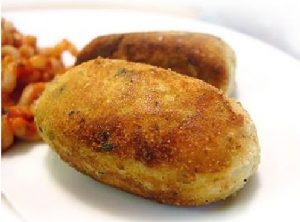 To serve 4:
1 kg courgettes
3 eggs
100 green olives, stoned and chopped
1 tbsp flour
1 tbsp cumin seeds
Flour for coating
Olive oil for deep frying
Salt and pepper
Preparation:
Wash and grate the courgettes and place in a non-stick pan. Heat gently until all the liquid has evaporated and they have turned into a thick creamy mixture.
Remove from the heat and mix with two beaten eggs, the olives, flour and cumin. Season with salt and pepper.
With lightly floured hands, shape the mixture into round croquettes, then flatten slightly. Coat with flour and then dip into the remaining beaten egg. Fry in very hot oil.
Place briefly on kitchen paper to drain. Serve very hot.