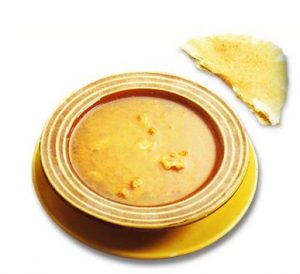 To serve 4:
750 g assorted fish (monkfish, blue-mouth, etc.)
2 small onions
1 garlic clove
2 tbsp tomato puree
1 tbsp paprika
½ tsp cayenne
½ tsp cumin
½ l water
100 g pearl barley
Juice of 1 lemon
2 tbsp chopped parsley
6 tbsp olive oil
Salt
Preparation:
Clean the fish. Peel and finely chop the onions and garlic. Heat oil in a large pan and fry the onions until transparent.
Add the garlic, tomato puree, paprika, cayenne, cumin and a little salt. Stir fry 2-3 minutes. Correct salt.
Add water and fish and bring to the boil. Lower the heat, cover and leave to cook 20 minutes. Transfer the fish to a platter and when cold enough, remove the bones. Shred its flesh and add to the soup.
Add the pearl barley and cook for 20-30 minutes, covered. Sprinkle lemon juice on top and serve.