Mission of the Executive Director to Pakistan (III) – On the third day of his mission to Pakistan, the Executive Director a
nd the Head of the External Relations Department of the IOC Executive Secretariat were received by H.E. Fakher Imam, Federal Minister for Food Security and Research of Pakistan. During their two-hour meeting, they discussed the state of the agriculture and food sector as well as the development plan for the olive sector.
The Minister emphasised two subjects to which he attached great importance: the training of experts and technology transfer. The Executive Director concurred, stressing the importance of human resources before embarking on such ambitious projects.
The two officials agreed on the procedure for Pakistan to accede to the IOC. The Minister expressed his country's determination to complete the required steps quickly and indicated that all parties concerned were committed to achieve this goal.
Gifts were exchanged at the end of the meeting.
The IOC delegation then visited the National Advanced Institute of Genome and Biotechnology. The officials presented their work on sequencing and DNA research of olive varieties planted in Pakistan and their identification.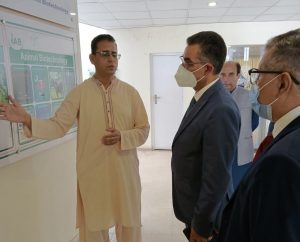 The Executive Director congratulated the team that had implemented the programme and already identified a large number of varieties, both local and imported.
In the afternoon, they visited Pak Olive, the government unit in charge of the plan to develop the olive sector in Pakistan. The visit to the premises demonstrated the efforts made by this institution in terms of project management, communication, encouraging farmers to plant olive trees, attempts to produce small quantities of packaged products and especially developing new products from the olive tree, such as cosmetics or olive leaf tea.
The Executive Director was positively surprised by their progress despite the rudimentary means employed and stated that with new technology, Pakistan would soon enter the big league. Aware of the technological gap, he called for assistance in terms of expertise and technological developments. They added that they were looking forward to their membership in the IOC to acquire new knowledge and develop their tools and production facilities.
Mission du Directeur exécutif au Pakistan (III)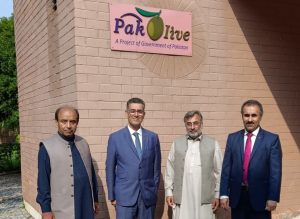 Islamabad –  – Au troisième jour de sa mission au Pakistan, le Directeur exécutif du COI et le chef du Département des Relations extérieures du Secrétariat exécutif de l'Organisation ont été reçus par S.E. Fakher Imam, ministre fédéral chargé de la sécurité alimentaire et de la recherche du Pakistan. Durant leur entretien, qui a duré deux heures, ils ont abordé l'état du secteur agricole et de l'alimentation en général et le plan de développement du secteur oléicole en particulier.
Le ministre a insisté sur deux sujets auxquels il accorde une grande importance : la formation des experts et les transferts de technologie. Le Directeur exécutif a abondé dans ce sens en soulignant l'importance des ressources humaines avant de se lancer dans des projets d'une telle ambition.
Les deux responsables se sont mis d'accord sur la procédure à suivre pour que le Pakistan accède au COI. Le ministre a fait part de la détermination de son pays à accomplir toutes les démarches requises dans un laps de temps très court et indiqué que toutes les parties concernées étaient décidées à atteindre cet objectif.
Des cadeaux ont été échangés à l'issue de cette rencontre.
La délégation du COI s'est ensuite rendue à l'Institut national supérieur du génome et de la biotechnologie. Les responsables de cette institution ont présenté au Directeur exécutif du COI leurs travaux de séquençage et de recherche sur l'ADN des variétés d'olivier plantées au Pakistan et leur identification.
Le Directeur exécutif a félicité l'équipe scientifique qui a mis en œuvre le programme et déjà identifié un grand nombre de variétés, aussi bien locales qu'importées.
L'après-midi a été consacré à la visite de Pak Olive, l'unité gouvernementale chargée du plan de développement du secteur oléicole au Pakistan. Une visite des locaux a permis de se rendre compte des efforts fournis par cette institution en termes de pilotage du projet, de communication, d'incitation des agriculteurs pour la plantation des oliviers, de tentatives de production de petites quantités conditionnées et surtout de développement des produits dérivés de l'olivier, comme les produits cosmétiques ou le thé á base de feuilles d'olivier.
Le Directeur exécutif s'est dit positivement surpris par une telle avancée malgré les moyens rudimentaires employés et déclaré qu'avec les nouvelles technologies, le Pakistan entrerait bientôt dans la cour des grands. Ses interlocuteurs se sont dit conscients du retard technologique et ont appelé de leurs vœux la fourniture d'assistance, en termes d'expertise et de nouveautés technologiques. Ils ont ajouté qu'ils comptaient bien sur leur adhésion au COI pour acquérir de nouvelles connaissances et développer leurs outils et moyens de production.