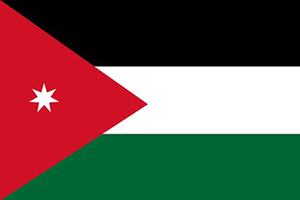 Jordan is welcome as IOC's 2022 Chair. The, 2015, International Agreement on Olive Oil and Table Olives provides that the Council of Members nominate a Chair for one year from among the delegations of the Members. The Chair of the IOC in 2022 (January–December) is held by the delegation of Jordan, represented, as president, by H.E. Eng. Khaled Musa Al Henefat Minister of Agriculture, pictured next to the IOC's Executive Director, mr. Abdellatif Ghedira.
His excellency is member of: the Executive and Advisory Board of Tafila; University Council /representative of the local community in Tafila Technical University; member of the Euro-Mediterranean Regional and Local Assembly; executive Council of the Arab Ministers at the Arab Center for the Studies of Arid Zones and Dry Lands. He is representative of Jordan at the Euro-Mediterranean Regional and Local Assembly; president and a member of several charitable and cooperative societies in Tafila.
For his high level of commitment in various fields of activity he received he received Medal of King Abdullah II Ibn Al Hussein Order for Distinction of the Third Degree.
According latest updated OLIVAE nr. 126, IOC's institutional online review:  https://www.internationaloliveoil.org/product/olivae-126-english-edition/    Jordan has a total surface area of 89,342 km 2 64,000 ha of which are used for olive growing. The gross value added of agriculture (agriculture, forestry and fishing) accounts for 5.54% of gross domestic product. The population is 9 702,353, and 12.92% live in rural areas. Life expectancy is 74.48 years, with an average of 3.31 children per woman.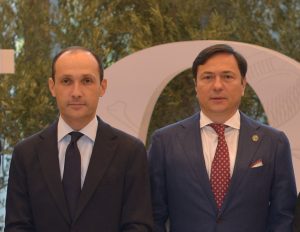 The Ashemite Kingdom of Jordan takes over the IOC's Chair from today, 1st January until 31 December 2022 and succeeds the Georgia's Chair which has been represented for two years, due the pandemic from 1 January 2020 until December 2021 by Mr. George Svanidze, public figure, maecenas, adviser to the vice prime minister and minister of the Environmental Protection and Agriculture of Georgia H. E. Levan Davitashvili; a strong supporter of the IOC's International Agreement on Olive Oil and Table Olives, both pictured.
Further information are available on these links:

https://www.internationaloliveoil.org/wp-content/uploads/2021/12/HS-Minister-Khaled-Hanifat-En.pdf