Minister of Agriculture and the Executive Director of the IOC launch A Dialogue Workshop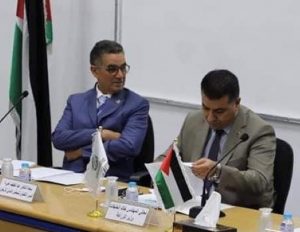 The Minister of Agriculture, Eng. Khaled Al Hnaifat, and the Executive Director  of the International Olive Council (IOC), Dr. Abdellatif Ghedira (both pictured), patronized the opening of a dialogue workshop entitled "The Jordanian Olive Sector: Reality, Challenges and Opportunities", which took place at National Agricoltural Research Center (NARC).
This workshop has been intended to find solutions and recommendations for the challenges facing the Jordanian olive sector, most importantly the high cost of production, the need to improve and control quality, marketing olive oil on both local and international levels, treating olive mills wastes, and legislations governing the olive sector, while NARC is always keen to employ scientific research outputs to find solutions to the several challenges facing the olive sector, in cooperation with local and international partners. NARC was recently able to declare that the historical olive cultivar 'Mehras', is considered one of the oldest genetic olive genotypes in the Mediterranean region, by decoding its genetic map.
The workshop was attended by representatives from ministries, universities and private sector institutions.
It is worthy to mention that Jordan has won many awards in international competitions on the high quality possessed by the Jordanian olive oil, and that the rate of Jordanian production of olive oil is estimated to 25-35 thousand tons, while it ranks twelvth globally and third in the Arab world.