EXECUTIVE DIRECTOR ABDELLATIF GHEDIRA, PICTURED GREETING HIS MAJESTY FELIPE VI KING OF SPAIN WHO INAUGURATED THE 2021 EDITION OF EXPOLIVA, COLLECTED THE COVETED AWARD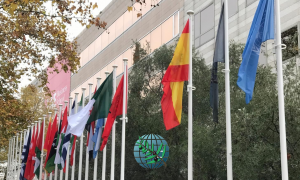 A panel of international experts has awarded the International Olive Council the 1st International Award City of Jaén for promoting the culture of olive growing in the world.  The initiative, promoted by the municipality of Jaen, took place on the opening day of Expoliva 2021.
The aim of this award is to disseminate, promote and encourage knowledge on all aspects of olive growing and olive oil technology in its broadest sense across different sectors. These include medicine, chemistry, agronomy, economics, music, gastronomy and art, as promoted by national and international institutions, organisations and personalities, both public and private.
Receiving the award, Executive Director Abdellatif Ghedira, accompanied by Deputy Executive Director, Jaime Lillo, and Head of External Relations, Mounir Fourati, said "I was honoured to receive the award for the worldwide promotion of olive oil on the side-lines of Expoliva21. My warmest thanks and respect to all those who have contributed to this international recognition, of which I particularly mention the Council of Members, the Advisory Committee, the officials of the Executive Secretariat as well as the women's networks of olive oil".
Exoliva 2021 was inaugurated by His Majesty King Felipe VI. The exhibition is now in its 20th edition as an international trade fair for olive oil and related industries. The King, in a gesture demonstrating his commitment and support for the Andalusian olive oil sector, greeted the authorities on his arrival and visited the different pavilions of the fair.