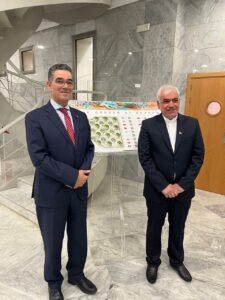 On Thursday 27 April, the Ambassador of the Islamic Republic of Iran to Spain, H.E. Reza Zabib, visited the Executive Director of the International Olive Council (IOC), Abdellatif Ghedira, at the Organisation's headquarters in Madrid.
The Ambassador stressed that the development of the olive sector in his country was a key priority and welcomed the strengthening of cooperation between the IOC and the Ministry of Agriculture Jihad of the Islamic Republic of Iran. This bilateral meeting was the second official visit of the Ambassador since he took office in Spain on 24 April 2023. He expressed his hope that he could count on the support of the IOC to develop the olive industry in Iran through multiple collaborative actions, including the creation of an international olive collection in the country and the transfer of technical knowledge from IOC experts to national experts through specialised training courses.
The IOC Executive Director welcomed the Ambassador's visit and his recent appointment, and reassured him of the continued positive collaboration between the IOC and Iran, which have already established multiple avenues of cooperation. These include: collaboration in the framework of the olive germplasm bank network and the "True Healthy Olive Cultivar (THOC)" project, the IOC recognition of five olive oil sensory analysis laboratories, the participation of Iranian physico-chemical analysis laboratories in several ring tests, and the visit of two IOC experts in July 2022. In addition, the visit of another IOC expert to Tehran is planned in the near future with the aim of evaluating the potential creation of an international olive tree collection.
Mr Ghedira confirmed his availability to pay an official visit to Iran in the coming months, where he will take part in a number of activities currently being prepared with the competent authorities, including the inauguration of a "Garden of Peace" and the Iranian School of Olive Growing in the province of Golestan.
At the end of the meeting, the Executive Director invited the Ambassador to visit the Organisation's headquarters and its various departments and units, and to admire the Organisation's "Garden of Peace".