The Menus of Change conference, part of a joint initiative of the IOC and the Culinary Institute of America (CIA), took place in Hyde Park, New York City, from 14 to 16 June 2022.
Breakout session B2 was on 'Olive Oil and the Plant-Forward Kitchen: Mapping Flavor and Culinary Concepts to Climate-Friendly, Sustainable Menus.' Representatives from the USDA and the US olive oil sector attended the session, and the IOC was represented by Deputy Executive Director Mr Jaime Lillo and Head of the Standardisation and Research Unit Dr Mercedes Fernández Albaladejo. Dr Fernández presented the IOC's activities and objectives, in particular relating to standardisation, quality and health, olive oil in food and olive oil tasting.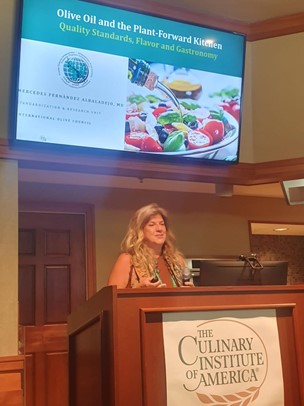 Dr Fernández led a tasting session where participants had the opportunity to try four of the award-winning olive oils from the Mario Solinas Quality Award 2022, each of which were produced using the IOC method (COI/T.20/Doc. No 15).
A business lunch was also held for guests to discuss the needs of the US olive sector, its progress and other topics of interest.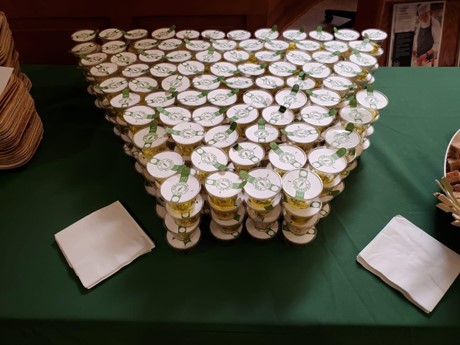 This ongoing project, which is based around the joint 'Olive Oil and the Plant-Forward Kitchen' initiative, falls under a multi-year collaboration agreement signed between the IOC and the CIA. The initiative, more information for which can be found on the CIA's website, aims to create flavour-matching strategies to help chefs move beyond a one-size-fits-all approach to olive oil. This initiative will help chefs build flavour portfolios with a variety of oils that meet different needs in their kitchens and on their menus, ultimately letting them make healthier, more sustainable menu choices.
Some of the objectives under this agreement are: to continue to disseminate scientific information, in particular on IOC standards and the physico-chemical, organoleptic and nutritional characteristics of olive products; to encourage technology transfer, research, education, harmonisation and dissemination of information on the importance of olive oil and its impact on society; and to increase and improve technical knowledge about olive oil and quality through culinary influencers in the US.
More information can be found on our website: https://www.internationaloliveoil.org/.