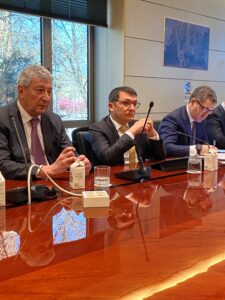 The International Olive Council (IOC) hosted on 28 March a delegation of ten officials, led by H.E. Elnur Aliyev, First Deputy Minister of the Ministry of Economy, accompanied by H.E. Ramiz Hasanov, the Ambassador of the Republic of Azerbaijan to the Kingdom of Spain and the Principality of Monaco. Mr. Yusif Abdullayev, Director of the Azerbaijan Export and Investment Promotion Fund (AZPROMO) was also present during the visit, which took place ahead of Azerbaijan's accession to the International Agreement.
The delegation was welcomed on arrival by the IOC Executive Director, Abdellatif Ghedira, along with his deputies, Jaime Lillo and Mustafa Sepetci, who expressed their gratitude to the Deputy Minister for the visit. In the meeting room, Mr Ghedira introduced the IOC officials present. This courtesy visit served as an opportunity to explain the mission of the IOC and its contribution to the development of the world olive sector and to show the delegation the headquarters of the Organisation. Mr Aliyev expressed his appreciation the IOC for the invitation and introduced his team. After this round of introductions, the Head of the External Relations Department, Andoni Olano, gave a brief presentation of the Organisation and gave the floor to the Heads of Unit present. Mercedes Fernández, from the Standardisation and Research Unit; Lhassane Sikaoui, from the Olive Growing, Olive Oil Technology and Environment Unit; and María Juárez, from the Promotion and Economics Unit, explained the activities of their respective units. The head of the Observatory and Information Systems Department, Javier Larraona, also presented the activities underway in his area.
During the meeting, both parties engaged in a productive exchange of views and identified several potential areas of cooperation. The collaboration will not only strengthen the ties between Azerbaijan and the International Olive Council but also enable the IOC to contribute to Azerbaijan's olive sector through its extensive knowledge, experience, and forums. These points of collaboration will be further elaborated and formalized in a Memorandum of Understanding (MoU), ensuring mutual benefits for both parties involved.
To conclude the visit, the First Deputy Minister presented Mr Ghedira with a ceramic tile made by the Icherisheher Traditional Art Centre, symbolizing the country's craftsmanship. At the end of the meeting, the ED took his guests on a tour of the headquarters and souvenir photos were taken to commemorate the event.