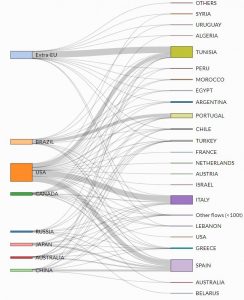 From October 2020 to August 2021, olive oil imports from Russia increased by 11.8% while imports from China and Japan fell by 5.8% and 15.7%, respectively. On the other hand, table olives imports grew by 7.5% in the 2020/2021 crop year.
Eight markets represent around 81% of the imports of olive oils and virgin olive oils around the world, the United States with 36%, the European Union with 15%, Brazil with 8%, Japan with 7%, Canada with 5%, China with 4%, Australia with 3%, and Russia with 3%.
In the first months of the 2020/2021 crop year, imports of olive oils and virgin olive oils in the top eight markets reached 813467 tonnes (-8.3%, compared to the same period previous crop year).
For further information click on this link:  IOC Imports-2020-21
Contact: International Olive Council – Economic and Promotion Unit – Economic Research and Statistics Department https://www.internationaloliveoil.org
Some of the data are subject to review. Figures are subject to change or correction without notice.
Last update: 2021-October-22