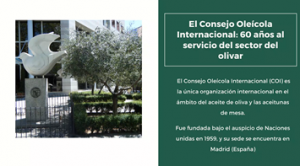 Following its rapprochement drive with Member States, the Executive Secretariat held a webinar with a Uruguayan delegation on 24 March 2021. The delegation was made up of important figures from the Ministry of Livestock, Agriculture and Fisheries, and representatives of the private and academic sectors, under the aegis of H.E. Ana Teresa Ayala, the Ambassador of the Oriental Republic of Uruguay to Spain.
The meeting began with welcome addresses given by the Executive Director of the IOC and by H.E. Ambassador Ayala, followed by presentations on the various activities of the IOC and an overview of the Uruguayan olive sector.
The second part of the meeting was devoted to an open discussion between the two parties, and to identifying key lines of cooperation to further boost the olive oil sector in the country.
Webinaire avec l'Uruguay
Msdrid – Poursuivant sa politique de rapprochement avec les États membres, le Secrétariat exécutif (SE) du Conseil oléicole international a organisé, le 24 avril 2021, une rencontre en visioconférence avec une délégation uruguayenne composée de hauts cadres du ministère de l'Élevage, de l'Agriculture et de la Pêche et de représentants du secteur privé et académique, sous la férule de l'Ambassadrice de la République Orientale de l'Uruguay à Madrid, S.E. Ana Teresa Ayala.
La réunion a débuté par les discours de bienvenue prononcés par le Directeur exécutif du COI et S.E l'Ambassadrice, pour ensuite laisser place aux présentations des deux parties relatives aux différentes activités menées par l'Organisation et à un exposé sur l'état du secteur oléicole en Uruguay.
La deuxième partie de la rencontre a été consacrée à une discussion ouverte entre les deux parties et à l'identification de certains axes de coopération afin de dynamiser davantage le secteur des huiles d'olive en Uruguay.