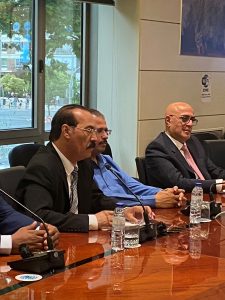 On 23 June 2022, the Executive Director of the IOC (ED) welcomed H.E. Azzam Abdulkarim Al Qaim, Ambassador of the Kingdom of Saudi Arabia in Spain, together with the Director General of Agriculture of the Al-Jouf region, Abdullah Ahmed Al-Ahmari, and a delegation from the Saudi olive sector.
After the guests were introduced and the parties shared some words of welcome, Andoni Olano, assistant to the ED, gave an update on the accession process: Members were expected to make the final decision in mid-September, this being the last step to formalise the entry of Saudi Arabia as a new member of the IOC.
Lhassane Sikaoui, head of the Technical Unit, and Mercedes Fernandez, head of the Standardisation and Research Unit, gave presentations on their respective fields. Catarina Bairrao, head of the Technical Cooperation and Training Department, added a few more details on the activities of the Technical Unit.
Also invited was Luis Rallo, Professor Emeritus of the University of Córdoba and coordinator of the IOC network of olive germplasm banks, who presented the agreement and the activities being carried out with the University to study different olive varieties.
Javier Larraona, head of the Observatory and IT Department, gave a brief presentation of the IOC website.
The Ambassador expressed his wish to be able to participate as an official member in the 116th session of the Council of Members in November 2022.
At the end of the meeting, the ED took his guests on a tour of the headquarters; souvenir photos were taken to commemorate the event.