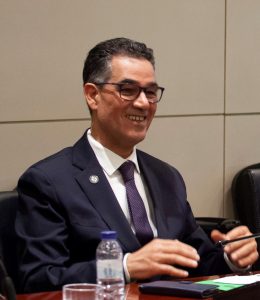 Continuing its policy of reaching out to countries interested in engaging in olive growing, the Executive Secretariat of the International Olive Council held a video conference on 18 October 2021 with officials from the Sudanese Ministry of Agriculture, the Minister Counsellor of the Sudanese Embassy in Madrid and IOC experts, to discuss ways and means of assisting Sudan in developing its olive sector.
The meeting started with a welcome by the IOC Executive Director, who then gave the floor to his Deputy Executive Director for a summary presentation of the IOC's activities and its mission, and a detailed presentation on operational activities and the Olive Observatory.
The Sudanese side expressed its thanks to the IOC management and its willingness to consider drawing up a development plan for its olive sector.
Several questions were addressed to the IOC experts, on technical, climatological and phytosanitary aspects and more particularly on the nature of the best soils adapted for planting olive trees. The Executive Director and his collaborators provided clarifications on several of the points raised.
At the end of the meeting, it was decided to prepare a non-binding roadmap, to be signed by both parties, which will include the main steps for cooperation between the IOC and Sudan.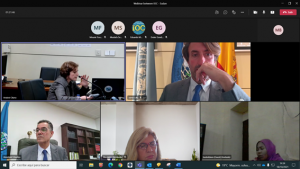 Visioconférence avec le Soudan
Poursuivant sa politique de rapprochement avec les pays désireux de se lancer dans l'oléiculture, le Secrétariat exécutif du Conseil oléicole international a organisé le 18 octobre 2021 une visioconférence à laquelle ont participé des fonctionnaires du ministère de l'Agriculture du Soudan, le ministre conseiller de l'Ambassade du Soudan à Madrid et des experts du COI, pour discuter des voies et des moyens d'aider le Soudan à développer son secteur oléicole.
La réunion a débuté par un mot de bienvenue du Directeur exécutif du COI, qui a ensuite cédé la parole à son Directeur adjoint pour une présentation sommaire des activités et de la mission du COI et un exposé plus détaillé sur les activités opérationnelles et sur l'Observatoire de l'oléiculture.
La partie soudanaise a exprimé ses remerciements à la direction du COI et a fait part de sa volonté de réfléchir à un plan de développement de son secteur oléicole.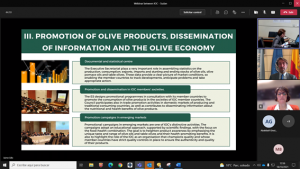 Plusieurs questions ont été adressées aux experts du COI, sur des aspects techniques, climatologiques et phytosanitaires et plus particulièrement sur la nature des sols adaptés à la plantation des oliviers. Le Directeur exécutif et ses collaborateurs ont apporté des éclaircissements sur plusieurs des points soulevés.
Au terme de cette rencontre, il a été décidé de préparer une feuille de route non contraignante, qui sera signée par les deux parties et qui comportera les principales étapes qui feront l'objet d'une coopération entre le COI et le Soudan.