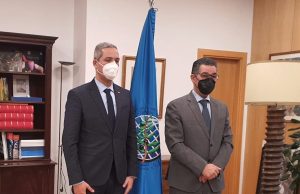 Tunisian Minister of Tourism and Handicrafts pays courtesy visit to IOC headquarters. Mr Mohamed Moez Belhassine, Minister of Tourism and Handicrafts of Tunisia, paid a courtesy visit to the Executive Director, Abdellatif Ghedira, on 18 January 2021.
The Tunisian Minister was accompanied by Ms Fatma Omrani Chargui, Tunisian Ambassador to Spain, and her staff, as well as by a delegation of senior officials from the Tunisian Ministry of Tourism and Handicrafts and the National Tourist Office of Tunisia.
The delegation was welcomed by the Executive Director and the Tunisian officials of the Organisation.
The interview focused on the different activities implemented by the IOC, as well as on the concept of the "Olive Route", which is of interest to several IOC member countries and which integrates tourism into the olive growing world.
At the end of the meeting, souvenir photos were taken and gifts were exchanged. The Minister then wrote a few words in the IOC guestbook to make the visit permanent. Both delegations left the IOC headquarters to visit the Fundación Santander and admire its orchard of thousand-year-old olive trees.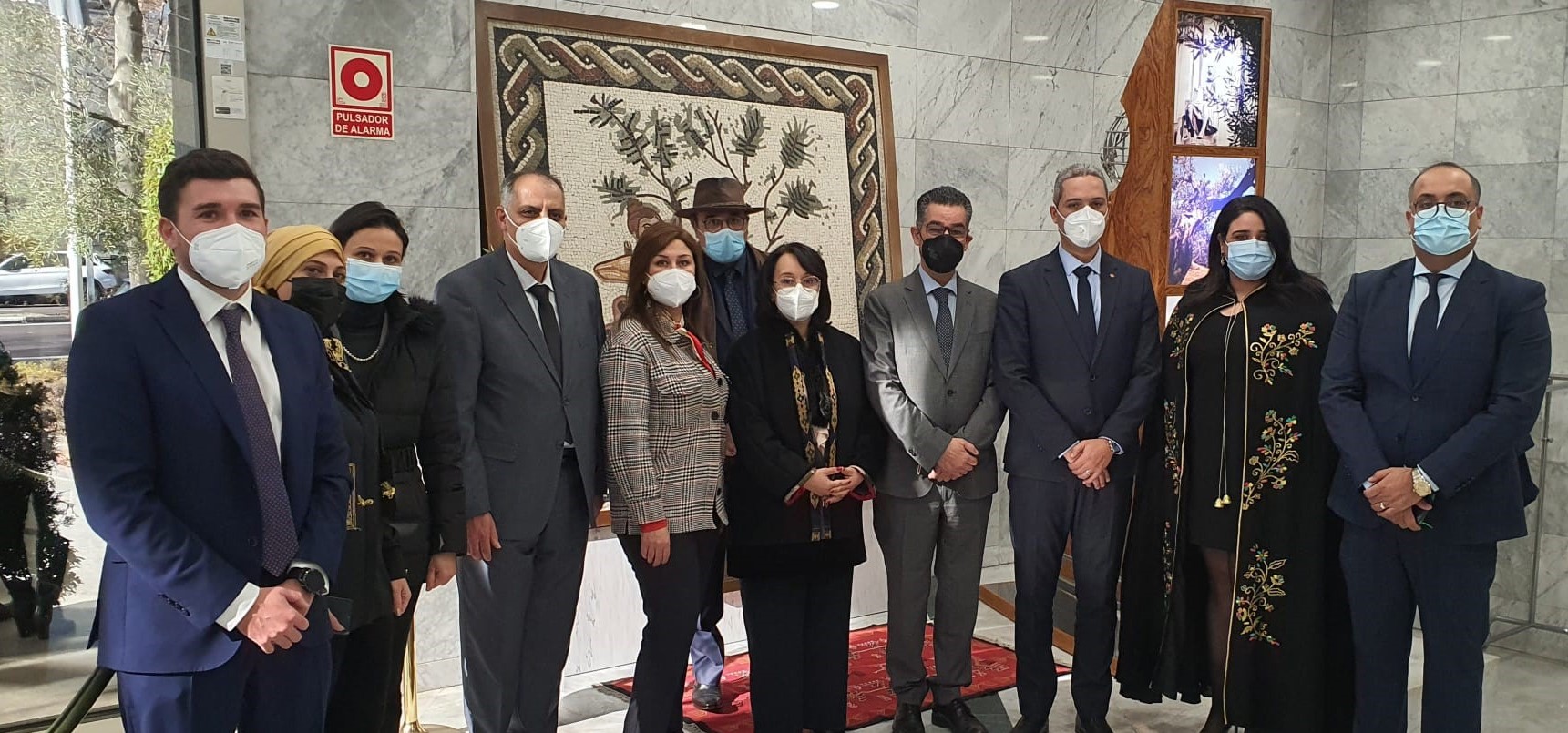 Visite de courtoisie du ministre du Tourisme et de l'Artisanat de la Tunisie au siège du Conseil oléicole international
Madrid – M. Mohamed Moez Belhassine, ministre du Tourisme et de l'Artisanat de la Tunisie, a rendu une visite de courtoisie au Directeur exécutif du COI, Abdellatif Ghedira, le 18 janvier 2021.
Le ministre tunisien était accompagné par Mme Fatma Omrani Chargui, Ambassadrice de Tunisie en Espagne, et ses collaborateurs, ainsi que par une délégation de hauts fonctionnaires du ministère tunisien du Tourisme et de l'Artisanat et de l'Office National du Tourisme de Tunisie.
La délégation a été accueillie par le Directeur exécutif du COI et par tous les fonctionnaires tunisiens de l'Organisation.
L'entretien a porté sur les différentes activités mises en œuvre par le COI, ainsi que sur le concept de la « Route des Oliviers », qui intéresse plusieurs pays membres du COI et qui intègre l'aspect touristique dans le monde oléicole.
Au terme de cette rencontre, des photos souvenirs ont été prises et des cadeaux ont été échangés. Le ministre a ensuite rédigé quelques mots sur le livre d'or de l'Organisation afin de pérenniser cette visite. Les deux délégations ont quitté le siège de l'Organisation pour se rendre à la Fundación Santander et admirer son verger composé d'oliviers millénaires.