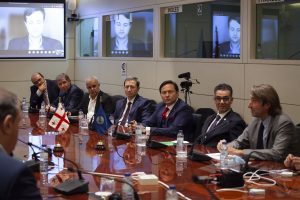 H.E. Irakli Garibashvili, the Prime Minister of Georgia, visited IOC headquarters in Madrid on 20 May 2021. He led a prestigious delegation that included the Minister of Economy and Sustainable Development, the Minister of Environmental Protection and Agriculture, members of the Georgian Parliament, H.E. the Georgian Ambassador to Spain and Mr. George Svanidze (pictured) public figure, maecenas, adviser to the Minister of The Environmental Protection and Agriculture of Georgia and current president of the IOC, organizer  of this official meeting.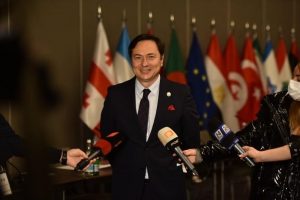 The delegation was welcomed by the Executive Director, Abdellatif Ghedira, and his two deputies, as well as by a large number of IOC staff.
Before welcoming the senior Georgian official, the Executive Director showed his guests a video in which the Minister of Environmental Protection and Agriculture and the President of the Republic of Georgia announced their intention to join the IOC in 2019 and to host a session of the Council of Members in Tbilisi, the capital.
He then gave an overview of Georgia's achievements during its two years as Council Chair, emphasizing the Chair's availability, dynamism and support for the accomplishment of the Organisation's mission. He also thanked the Georgian Ambassador for his collaboration.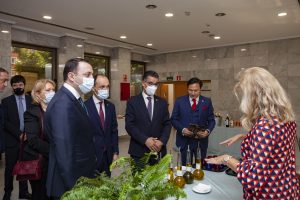 The two Deputy Executive Directors also addressed the guests. Jaime Lillo, who oversees operational aspects of the IOC, gave a brief presentation on the Organisation's activities. Mustafa Sepetçi, who oversees administrative and financial affairs, underlined the excellent collaboration between the Executive Secretariat and the Georgian Chair. The floor was then given to the Minister of Agriculture and the Prime Minister of Georgia, who thanked the Executive Secretariat for continuing its work despite the pandemic and for the support given to both Georgia and the IOC Chair. They pledged to make all efforts to ensure a successful session of the Council of Members and Advisory Committee meeting in the country in November 2021.
The IOC officials then invited the Georgian delegation to an olive oil tasting session and a drinks reception that had been organised in their honour.  At the end of the visit, gifts were exchanged before a photo session.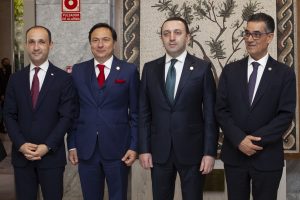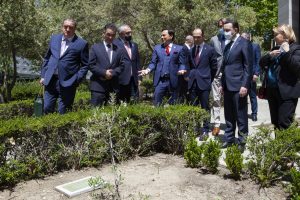 Visite du premier ministre de Géorgie au Conseil oléicole international
Madrid – S.E. Irakli Garibashviliet , premier ministre de la Géorgie, s'est rendu le 20 mai 2021 au siège du COI, à la tête d'une prestigieuse délégation comprenant les ministres de l'Économie et de la Protection de l'Environnement et de l'Agriculture, des élus du Parlement géorgien S.E. l'Ambassadeur de Géorgie en Espagne et M. George Svanidze, personnalité publique, maecenas, conseiller du ministre de la protection de l'environnement et de l'agriculture de Géorgie et actuel président du COI, organisateur de cette rencontre officielle.
La délégation a été accueillie par le Directeur exécutif du COI, Abdellatif Ghedira, et par ses deux adjoints, ainsi que par une grande partie des fonctionnaires de l'Organisation.
Lors de la séance de travail qui a suivi, avant de souhaiter la bienvenue au haut responsable géorgien, le Directeur exécutif du COI a souhaité montrer à ses invités une vidéo dans laquelle le ministre de la Protection de l'Environnement et de l'Agriculture et la présidente de la République de Géorgie annonçaient en 2019 leur intention de rejoindre le COI et d'accueillir une session du Conseil à Tbilissi, la capitale de la Géorgie.
Le Directeur du COI a ensuite donné un aperçu des réalisations de la Géorgie au cours de ses deux années de présidence du Conseil, en insistant sur la disponibilité du président, son dynamisme et le soutien qu'il apporte à l'accomplissement de la mission de l'Organisation. Il a aussi remercié l'Ambassadeur géorgien pour sa collaboration.
Les deux Directeurs exécutifs adjoints sont également intervenus. Celui chargé des aspects opérationnels, Jaime Lillo, a fait une brève présentation des activités du COI, et celui chargé des aspects administratifs et financiers, Mustafa Sepetçi, a souligné l'excellente collaboration entre le Secrétariat exécutif et la présidence géorgienne. La parole a ensuite été donnée au ministre de l'Agriculture puis au premier ministre de la Géorgie. Ceux-ci ont remercié le Secrétariat exécutif du COI pour le travail réalisé malgré la pandémie et pour le soutien apporté aussi bien à la Géorgie qu'au président du COI. Ils ont assuré que tout serait mis en œuvre en vue de la réussite de la session du Conseil des Membres et de la réunion du Comité consultatif qui auront lieu en Géorgie en novembre 2021.
Les responsables du COI ont ensuite convié la délégation géorgienne à une séance de dégustation d'huile d'olive et à un cocktail qui avait été organisé en son honneur. Au terme de cette visite, des cadeaux ont été échangés avant une séance de photos souvenirs.