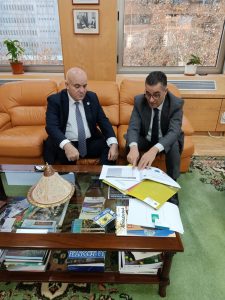 H.E. Mr Malek Twal, representative of the League of Arab States mission in Madrid, paid a courtesy visit to the Executive Director of the International Olive Council (IOC), Abdellatif Ghedira, on Monday 20 December 2021. The Head of the IOC's External Relations Department, Mounir Fourati, also took part in the meeting.
Mr Ghedira congratulated his interlocutor on his recent appointment in Madrid and wished him every success in his mission. He also gave him an overview of the IOC's mission for the development of the olive sector, as well as the activities undertaken by the different units of the Executive Secretariat.
Several points of discussion were addressed, including the importance of the establishment of the Arab Olive Office, which will be a very useful interlocutor for the Organisation. The Executive Director referred to the project of standard for edible olive oils and olive-pomace oils submitted by the Gulf Economic Council to the World Trade Organization, indicating that this regulation could be a source of confusion in international trade. He asked his interlocutor to consider the possibility of convening a meeting with the representatives of the GEC in order to explain the position of the IOC Executive Secretariat and to offer the IOC's expertise in this matter. The representative of the Arab League undertook to provide assistance on all the issues discussed, including the last point mentioned.
At the end of the meeting, souvenir photos were taken to commemorate the meeting.
Le nouveau représentant de la Ligue arabe à Madrid visite le Conseil oléicole international
Madrid – S.E. M. Malek Twal, représentant de la mission de la Ligue des États arabes à Madrid, a rendu une visite de courtoisie au Directeur exécutif du Conseil oléicole international (COI), Abdellatif Ghedira, lundi 20 décembre 2021. Le chef du Département des relations extérieures du COI, Mounir Fourati, a également pris part à cette réunion.
Ghedira a félicité son interlocuteur pour sa récente nomination à Madrid et lui a souhaité plein succès dans sa mission. Il lui également donné un aperçu sur la mission que mène le COI pour le développement du secteur oléicole, ainsi que sur les activités entreprises par les différentes Unités du Secrétariat exécutif.
Plusieurs points de discussion ont été abordés, notamment l'importance de l'installation du Bureau arabe de l'olivier, qui sera un interlocuteur très utile pour l'Organisation. Le Directeur exécutif a fait référence au projet de norme relative aux huiles d'olive comestibles et aux huiles de grignon d'olive soumis par de Conseil économique du Golfe à l'Organisation mondiale du commerce, indiquant que cette réglementation pourrait constituer une source de confusion dans les échanges internationaux. Il a demandé à son interlocuteur d'envisager la possibilité de réunir les représentants du CEG afin de leur exposer la position du Secrétariat exécutif du COI et de leur offrir l'expertise du COI en la matière. Le représentant de la Ligue arabe s'est engagé à apporter son assistance sur tous les sujets abordés, notamment sur le dernier point évoqué.
Au terme de la réunion, des photos souvenirs ont été prises pour commémorer cette rencontre.