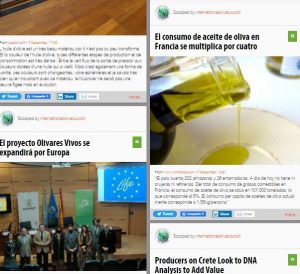 The Executive Secretariat continues to monitor the sector through its OLIVE NEWS press review (http://www.scoop.it/t/olive-news), which uses different research tools and regular monitoring of the international press to collect and publish articles from the main specialized magazines on the international olive sector and other topics related to agriculture, nutrition, health, agricultural economics, the environment, the Mediterranean diet, etc., in Spanish, English, French and Italian. This press review is updated every day.
The published articles are also available on our social networks Linkedin and Twitter.
Olive News,  une revue de presse entièrement consacrée à l'olivier 
Le Secrétariat exécutif poursuit ses activités de veille sectorielle à travers sa revue de presse OLIVE NEWS (http://www.scoop.it/t/olive-news) où sont recueillis et publiés, grâce à différents outils de recherche et à un suivi régulier de la presse internationale, des articles des principales revues spécialisées consacrés au secteur oléicole international et à d'autres thèmes liés à l'agriculture, la nutrition, la santé, l'économie agricole, l'environnement, le régime méditerranéen, etc., en espagnol, en anglais, en français et en italien. Cette revue de presse est actualisée tous les jours. Les articles publiés sont également disponibles sur nos réseaux sociaux Linkedin et Twitter.