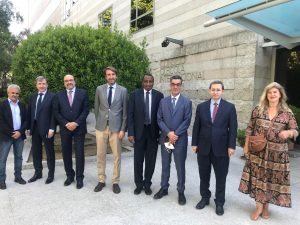 Ibrahim Eldukheri, the Director General of the Arab Organization for Agricultural Development (AOAD), was welcomed to the International Olive Council by Executive Director Abdellatif Ghedira and his Deputy Executive Directors Jaime Lillo and Mustafa Sepetçi.
The AOAD, which functions under the umbrella of the League of Arab States, was established in 1970 to meet the needs of Arab countries. Given the vital role of agriculture within the region's economy, the countries recognised the need for coordination between their various policies in agriculture, natural and human resources as well as economic development to achieve the ultimate goal of fully integrating the economies in the region.
T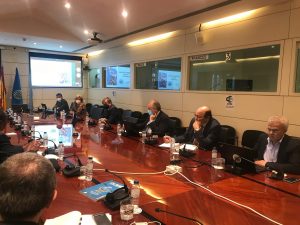 he aim of this meeting was to share a common vision to develop the olive oil sector and to bring the League of Arab States closer to the wo
rk of the IOC. For this reason, Mr Ghedira invited the officials in charge of the operational and financial activities of the IOC.
The meeting was attended by the heads of the various units of the IOC: Felix Madrid, from the Financial Management Unit; Mercedes Fernandez, from the Standardisation and Research Unit; Abdelkrim Adi, from the Technology and Environment Unit; and Ender Gunduz, from the Economics and Promotion Unit. Mounir Fourati, the Head of the External Relations Department; Eduardo Muela, the Head of the Legal Department; and Michele Bungaro, the Head of the Observatory and IT Systems Department also attended the meeting.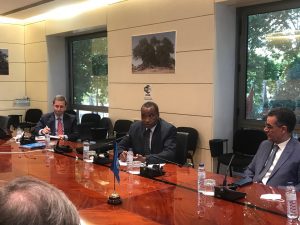 The meeting falls under the activities foreseen by the International Agreement on Olive Oil and Table Olives 2015 'to promote technical cooperation and research and development in the olive sector by encouraging the cooperation of public and private bodies and/or entities, whether national or international'.
At the end of the meeting, Mr Ghedira and Mr Eldukheri agreed to intensify cooperation between the two bodies in order to successfully achieve their common goals.