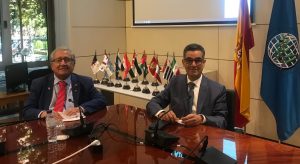 Madrid – The 113th session of the Council of Members began this morning in what will hopefully be the last IOC session held over videoconference.
The meeting is attended in person by H.E. Musa A. Oden, the Ambassador of Palestine, who is pictured with Executive Director Abdellatif Ghedira.
Connecting via IOC headquarters in Madrid, representatives from the global olive sector and from the governments of our member countries will be brought together this week, starting with the meeting of the Administrative and Financial Affairs Committee.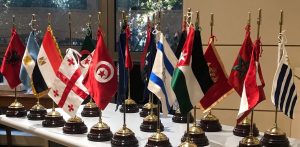 Many of the activities that will be announced today have been summarised in newsletter 164, which is available free of charge on the homepage of the IOC website.
The plenary session of the Council of Members is scheduled for Wednesday 30 June, when important decisions for the intergovernmental body will be approved.