Madrid The 110th session of the Council of Members of the International Olive Council has begun at headquarters in Madrid. Representatives from the Organisation's 17 member countries will discuss various important topics over the course of the five-day session. The Committees for Administrative and Financial Affairs, Economics and Promotion, Chemistry and Standardisation and Olive Oil Technology and the Environment have come together to discuss important topics such as past and present activity, statistics and the Observatory.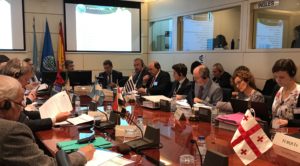 This year, the 110th session of the Council coincides with the 60th anniversary of the foundation of the IOC. We have organised a day of celebrations on Thursday 28 November in order to mark the occasion, which will also celebrate World Olive Day.
Government authorities, the diplomatic corps and industry representatives are expected from all over the world. World Olive Day itself will take place under the high patronage of King Felipe VI of Spain, who will plant an olive tree in our grove at headquarters. The 110th session will conclude with the plenary session on Friday 29 November.