The third edition of the Yale International Symposium on Olive Oil and Health was held in Jaén (Spain) from December 9 to 12, 2021. The IOC Deputy Executive Director, Jaime Lillo (pictured), attended the symposium.
Jaime Lillo welcomed the participants during the opening ceremony of the symposium and coordinated a round table session during the afternoon session on December 10.
Several experts from different countries participated in this edition where issues of interest were discussed, such as the health benefits of olive oil, Alzheimer's disease, climate change, bioeconomy, bioenergy, the influence of COVID on the consumption of olive oils, the Nutriscore label system, etc.
If you are interested in these issues, you will find more information in the OHIS portal, the Olive Health Information System created by the IOC and Universidad de Navarra, that collects scientific information on the health benefits of olive oil and olive products. OHIS provides users with a regularly updated database, giving them access to the latest research, including technical documents as well as more accessible content written in simple language.
More information can be found on the IOC website: https://www.internationaloliveoil.org/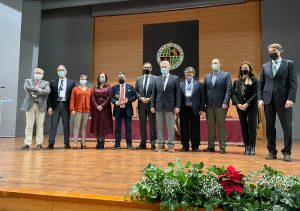 3e Symposium international de Yale sur l'huile d'olive et la santé (9 – 12 décembre 2021)
La troisième édition du symposium international de Yale sur l'huile d'olive et la santé s'est tenue à Jaén (Espagne) du 9 au 12 décembre 2021.
Le Directeur exécutif adjoint du COI, Jaime Lillo, a assisté au symposium. Jaime Lillo a accueilli les participants lors de la cérémonie d'ouverture du symposium et a coordonné une table ronde lors de la session de l'après-midi du 10 décembre.
Plusieurs experts de différents pays ont participé à cette édition où des questions d'intérêt ont été abordées, telles que les bienfaits de l'huile d'olive pour la santé, la maladie d'Alzheimer, le changement climatique, la bioéconomie, la bioénergie, l'influence du COVID sur la consommation des huiles d'olive, le système d'étiquetage Nutriscore, etc.
Si ces questions vous intéressent, vous trouverez de plus amples informations sur le portail OHIS, le système d'information sur la santé des olives créé par le COI et l'Université de Navarre, qui recueille des informations scientifiques sur les bienfaits de l'huile d'olive et des produits oléicoles pour la santé. L'OHIS met à la disposition des utilisateurs une base de données régulièrement mise à jour, leur donnant accès aux dernières recherches, y compris des documents techniques ainsi qu'un contenu plus accessible rédigé dans un langage simple.
Vous trouverez de plus amples informations sur le site du COI : https://www.internationaloliveoil.org/