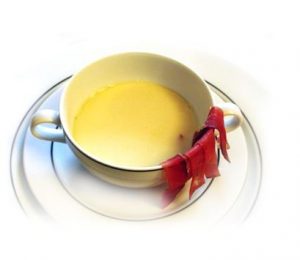 To serve 4:
6 dl water
Salt
1 packed cup each:
Yarrow leaves
Sorrel
Common plantain
Dandelion shoots
Stinging nettle
2 dl milk
3 tbsp olive oil
1 heaped tbsp chopped onion
1 tbsp flour
1 clove garlic, chopped
1 egg
Salt and pepper to taste
4 tsp sour cream
Preparation:
Bring 3 dl water to boil, add salt and all the herbs; cook covered for 5 minutes. Transfer herbs to a blender and puree with 1 dl milk; reserve cooking liquid.
Heat the olive oil in a pot and fry onions until very lightly browned (about 1 minute). Add flour and fry, stirring until light brown. Mix in the garlic. Add pureed herbs, cooking liquid, remaining milk and water, mix and bring to boil.
Quickly stir in the egg, salt and pepper to taste, and serve.
Garnish each plate with one teaspoon sour cream.