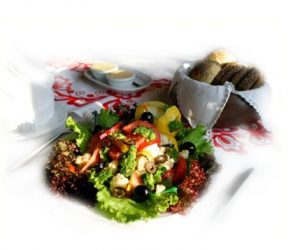 To serve 4:
1 endive, finely chopped
½ kg green olives, stoned
1 small onion, chopped
1 garlic clove, finely chopped
1 tomato, chopped
1 tsp fresh tarragon, finely chopped
1 hard-boiled egg
3 tbsp olive oil
2 tbsp white wine vinegar
100 g tuna fish in olive oil, flaked
Salt
Preparation:
Arrange the endives in a salad dish, add the olives, onion, garlic, tomato and tarragon. Sprinkle with salt.
Pound the yolk of the hard-boiled egg in the mortar, then slowly add the oil and vinegar, stirring constantly with the pestle. Pour the dressing over the salad. Chop the egg white and scatter over the salad together with the flaked tuna fish.
Sprinkle with salt.