On 28 October 2021, the Executive Secretariat held the award ceremony for the Mario Solinas Quality Award 2021 by video conference with simultaneous interpretation.
The IOC award is an institutional, non-profit competition that aims to encourage olive growers to produce extra virgin olive oils with harmonious organoleptic characteristics and to encourage consumers to recognise and appreciate the sensory attributes of such oils.
In the 21st edition, entries were classified into one of five categories: robust; medium and delicate green fruitiness; ripe fruitiness; and extra virgin olive oil from the southern hemisphere.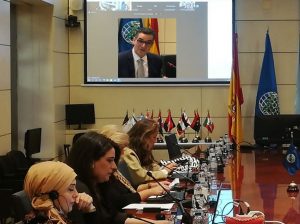 Executive Director Abdellatif Ghedira opened the ceremony and highlighted the importance of this competition, congratulating all winners and finalist. The ceremony continued with a brief description of the competition rules by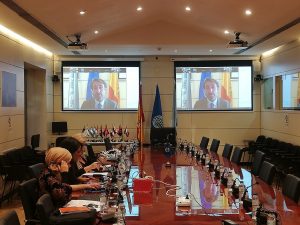 the Deputy Executive Director Jaime Lillo. Mercedes Fernandez, the Head of the Standardisation and Research Unit, presented the international panel of this edition, the winners and finalists, giving a detailed description of the sensory characteristics of the winning oils. During the ceremony, short videos that the winners and finalists had made on their production of extra virgin olive oils were showed to the guests.
Thanks to all our participants; we hope to see you next year!
CÉRÉMONIE DE REMISE DES PRIX MARIO SOLINAS À LA QUALITÉ DES HUILES D'OLIVE VIERGES EXTRA – ÉDITION 2021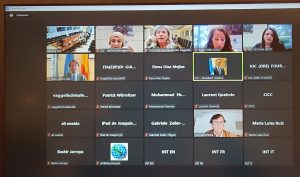 Le Secrétariat exécutif a organisé la cérémonie de remise des Prix Mario Solinas à la qualité le 28 octobre 2021. Cet événement s'est déroulé en visioconférence avec interprétation simultanée. Le Prix Mario Solinas du COI est un concours institutionnel, sans but lucratif, qui vise à encourager les oléiculteurs à produire des huiles d'olive vierges extra présentant des caractéristiques organoleptiques harmonieuses et à inciter les consommateurs à reconnaître et à apprécier les attributs sensoriels de ces huiles. Lors de cette 21e édition, les huiles candidates ont été classées dans l'une des cinq catégories suivantes : fruité vert robuste, moyen et délicat ; fruité mûr ; et huiles d'olive vierges extra de l'hémisphère sud.
Le Directeur exécutif du COI, Abdellatif Ghedira, qui a ouvert la cérémonie, a souligné l'importance de ce concours et félicité tous les gagnants et les finalistes. La cérémonie s'est poursuivie par une brève description des règles du concours par le Directeur exécutif adjoint, Jaime Lillo. Mercedes Fernandez, chef de l'Unité Normalisation et Recherche, a présenté le jury international de cette édition, les lauréats et les finalistes, et a fourni une description détaillée des caractéristiques sensorielles des huiles lauréates. Au cours de la cérémonie, de courtes vidéos réalisées par les gagnants et les finalistes sur leur production d'huile d'olive vierge extra ont été montrées aux invités.
Merci encore à tous les participants ! Nous espérons vous voir l'année prochaine !