On the last day of his mission to Pakistan, the Executive Director visited a large private olive grove in Nowshera, Khyber Pakhtunkhwa Province, a two-hour drive from Islamabad.
The delegation and Pak Olive officials were welcomed by the owner of the property. While visiting an organic cultivation plot, they noted how healthy the trees were and that there were no diseases or pests. Both the fruit and the leaves were in good condition; they are used to prepare infusions and olive leaf tea. The Executive Director gave advice on pruning, grafting and irrigating the orchard.
The mission to Pakistan had three main objectives: to witness the implementation of the Pakistani plan to develop the olive sector; to monitor the implementation of IOC standards; and to confirm the willingness of the Pakistani authorities to join the IOC. At the end of this mission, it would be amiss not to express the delegation's appreciation to H.E. the Federal Minister for Food Security and Research of Pakistan, who, despite his ill health, insisted on welcoming the Executive Director at his home. Our sincere thanks also go to Dr Khair Muhammed Kakar, who spared no effort to assist the delegation and stayed with them throughout the mission, and to Dr Tariq Atatürk and Dr Azmet Ali Awan, who also accompanied the delegation on all its visits and took care of the logistics.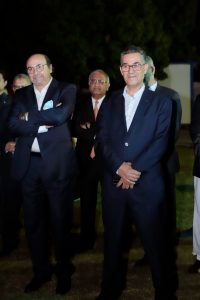 In the evening, the Executive Director took part in an unscheduled meeting with Ms Emanuela Benini, Director of the Italian Agency for Development and Cooperation (AICS). The Executive Director explained to her the overall mission of the IOC and the purpose of her visit to Pakistan. Ms Benini informed him of the work she was doing in Pakistan. She explained that the focus of her mission was on training, especially for research centres, and that in the field of olive cultivation, her work was related to the whole value chain of the olive sector. She also referred to a project being developed with CIHAEM in Bari to provide further support and assistance to the Pakistani authorities in this area. The Executive Director welcomed this initiative and expressed his wish to see the IOC as a partner in this project. He pledged to explore ways and means to partner in this endeavour, in accordance with the procedures, and to assist the government of Pakistan in the success of its olive development plan.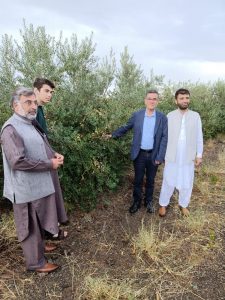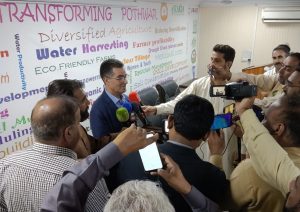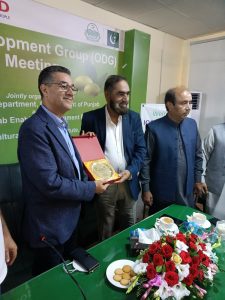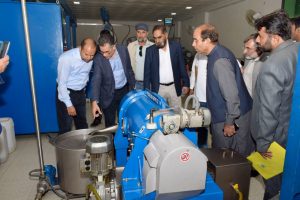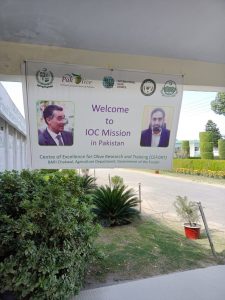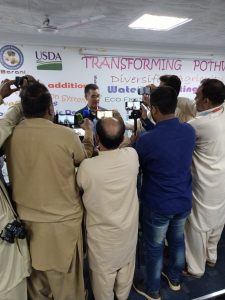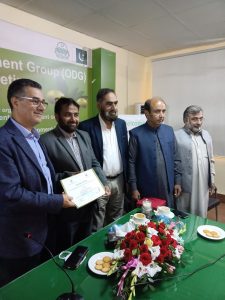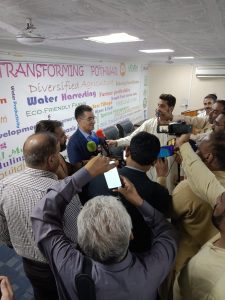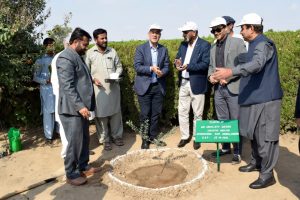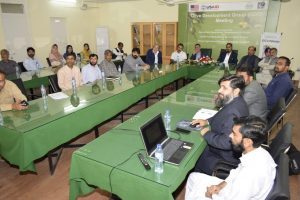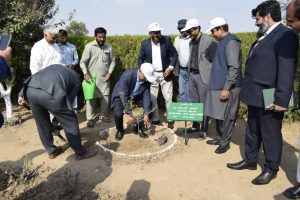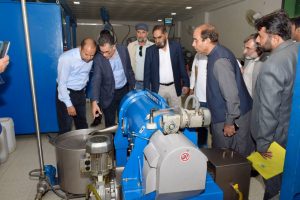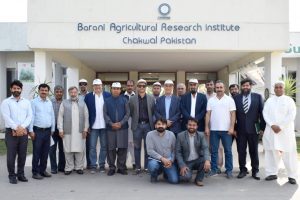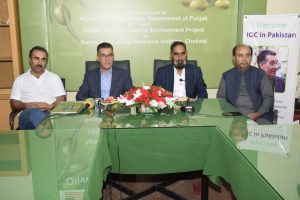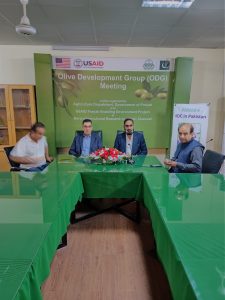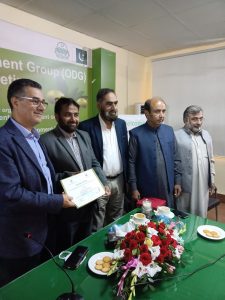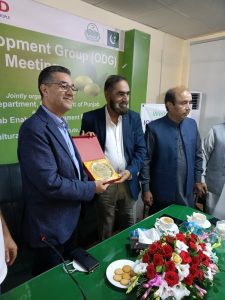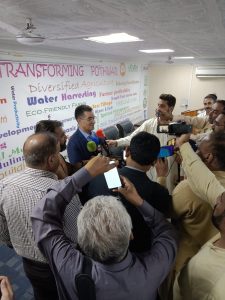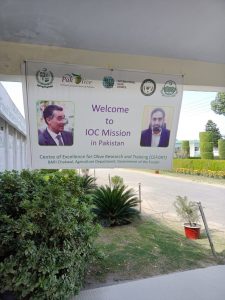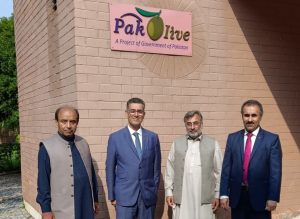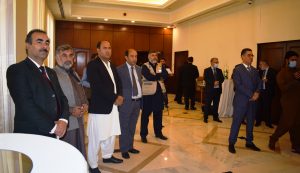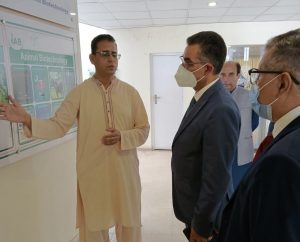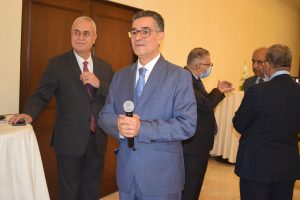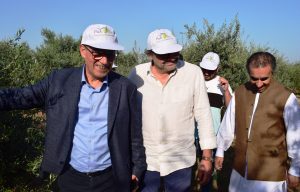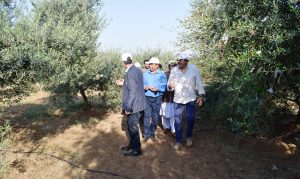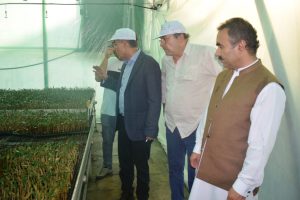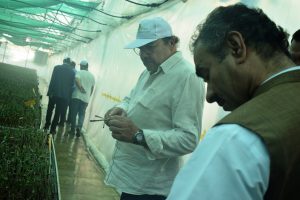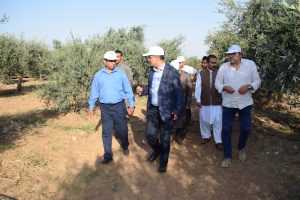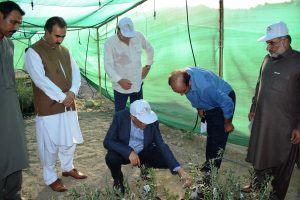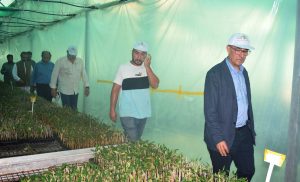 Bilan positif pour la mission du COI au Pakistan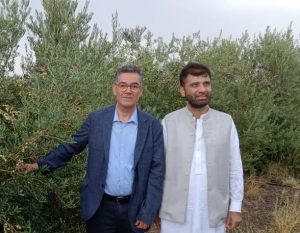 Le dernier jour de la mission du Directeur exécutif du Conseil oléicole international au Pakistan a été consacré à la visite d'une importante oliveraie privée située à Nowshera, dans la province de Khyber Pakhtunkhwa, à deux heures de route d'Islamabad.
La délégation et les responsables de Pak Olive ont été accueillis par le propriétaire des lieux. La visite d'une parcelle de culture organique leur a permis de constater le bon état de santé des arbres et l'absence de maladies et de parasites. Les fruits comme les feuilles ne présentant aucune altération, ces dernières sont utilisées pour préparer des infusions ou, plus généralement, du thé aux feuilles d'olivier. Le Directeur exécutif du COI a prodigué des conseils concernant notamment la taille, le greffage et l'irrigation du verger.
La mission du Conseil oléicole international au Pakistan visait notamment les trois objectifs suivants : constater de visu la mise en œuvre du plan pakistanais pour le développement du secteur oléicole ; veiller à l'application des normes du COI ; et obtenir la confirmation de la volonté des autorités pakistanaises à adhérer au COI. Au terme de cette mission, il serait inapproprié de ne pas exprimer toute la considération de la délégation pour S.E. le ministre fédéral chargé de la sécurité alimentaire et de la recherche du Pakistan, qui, malgré son état de santé, a tenu à recevoir le Directeur exécutif à son domicile. Nos remerciements les plus sincères vont également au Dr Khair Muhammed Kakar, qui n'a épargné aucun effort pour assister la délégation et ne l'a pas quittée tout au long de sa mission, ainsi qu'aux Drs Tariq Atatürk et Azmet Ali Awan, qui ont eux aussi accompagné la délégation dans toutes ses visites et ont pris soin de la logistique.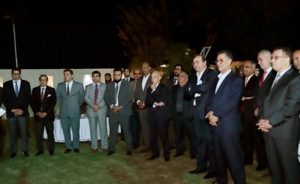 Le Directeur exécutif a pris part dans la soirée à une réunion non programmée avec Mme Emanuela Benini, Directrice de l'Agence italienne pour le développement et la coopération (AICS). À cette occasion, le Directeur exécutif a expliqué à son interlocutrice la mission générale du COI et le but de sa visite au Pakistan. Pour sa part, Mme Benini l'a informé du travail qu'elle réalise au Pakistan. Elle a expliqué que l'essentiel de sa mission portait sur la formation, en particulier au profit des centres de recherche, et que dans le domaine de l'oléiculture, son travail concernait l'ensemble de la chaine de valeur du secteur oléicole. Elle a également fait référence à un projet en gestation avec le CIHAEM de Bari visant à apporter plus d'aide et d'assistance aux autorités pakistanises dans ce domaine. Le Directeur exécutif s'est réjoui de cette initiative et a exprimé son souhait de voir le COI participer à ce projet en qualité de partenaire. Il s'est engagé à explorer les voies et les moyens de s'associer à cette entreprise, conformément aux procédures, et d'assister le gouvernement pakistanais en vue de la réussite de son plan de développement oléicole.