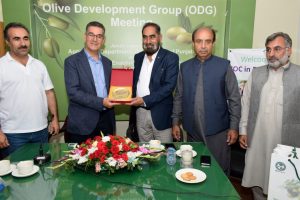 On the fourth day of his mission to Pakistan, the Executive Director was invited to the Barani Institute of Agricultural Research. This research centre is in Chakwal, Punjab province, a three-hour drive from Islamabad.
The IOC delegation was welcomed by the Director of the institute along with the Pak Olive team in charge of the development plan for the olive sector in Pakistan.
Before starting the visit, a press conference was set up at the request of Punjabi journalists who had come in large numbers to hear about the arrival of the Executive Director.
Questions focused on the country's capacity to engage in olive cultivation and the purpose of the Executive Director's mission to Pakistan.
The visit continued with a presentation of the institute and its research on agriculture and olive growing. The centre, which has a highly qualified team, works with modern tools and carries out important studies.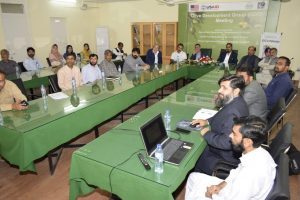 The Executive Director discussed technical and scientific issues with the scientists. The Executive Director proposed holding a videoconference in the near future to delve deeper into the topics with IOC experts.
The IOC delegation was then invited to visit the Institute's oil mill, which is equipped with two-phase extractors.
Before his departure, the Executive Director planted an olive tree in the park of the Institute.
In the afternoon, they visited a mineral salt mine in the surrounding mountains, before returning to Islamabad at nightfall.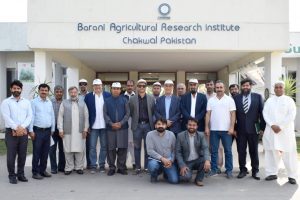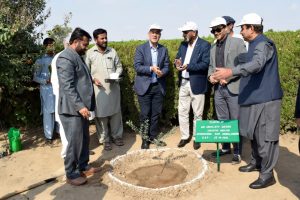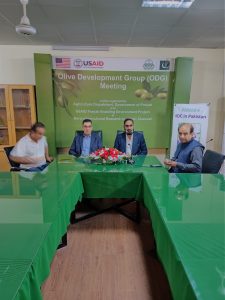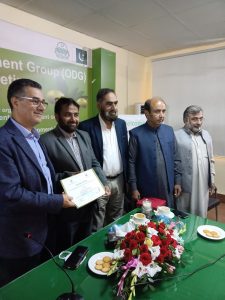 La recherche pakistanaise soutient l'adhésion au COI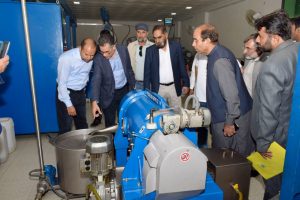 Au quatrième jour de sa mission au Pakistan, le Directeur exécutif du Conseil oléicole international a été invité à l'Institut Barani de recherche en agriculture. Ce centre de recherche est situé à Chakwal, dans la province du Pendjab, à trois heures de route d'Islamabad.
C'est le Directeur de l'institut qui a accueilli la délégation du COI, en compagnie de l'équipe de Pak Olive, chargée du plan de développement du secteur oléicole au Pakistan.
Avant d'entamer la visite, une conférence de presse a été improvisée à la demande des journalistes panjabis qui étaient venus en grand nombre à l'annonce de l'arrivée du Directeur exécutif.
Les questions ont porté principalement sur les capacités de leur pays à se lancer dans la culture des oliviers et sur l'objet de la mission du Directeur exécutif au Pakistan.
La visite s'est poursuivie par une présentation de l'institut, de ses travaux de recherche en agriculture en général et en oléiculture en particulier. Le centre, qui dispose d'une équipe très qualifiée, travaille avec des outils modernes et réalise de études d'une grande importance.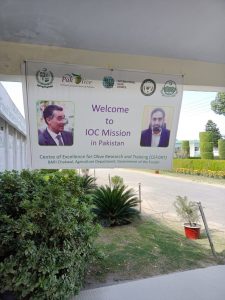 Un dialogue s'est engagé entre le Directeur exécutif et les scientifiques présents sur des questions de nature technique et scientifique. Le Directeur exécutif leur a proposé de poursuivre la discussion dans le cadre d'une visioconférence qui pourrait être organisée prochainement avec les experts du COI.
La délégation du COI a ensuite été invitée à visiter l'huilerie de l'Institut, qui est équipée d'extracteurs à deux phases.
Avant son départ, le Directeur exécutif a planté un olivier dans le parc de l'institut.
L'après-midi a été consacré à la visite d'une mine de sel minéral dans les montagnes environnantes, avant le retour vers Islamabad à la tombée de la nuit.