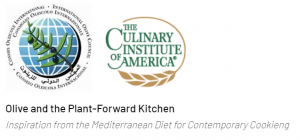 There is a world of flavor in olive oil—multitudes of varietals, styles, aromatics, and markers of excellence. Learn about the difference between extra virgin and regular olive oils, olive varietals, and olive oil flavor profiles. There are four categories of olive oil flavor profiles: Intense green fruitiness; Medium green fruitiness; Mild green fruitiness; and Ripe fruitiness. Learn about flavor profiles and how olive harvest time effects flavor.
To watch the video click on this link:https://www.youtube.com/watch?v=MI13WTI8bl0&t=12s
Find recipes, videos and more information at https://www.plantforwardkitchen.org/olive-oil-and-the-plant-forward-kitchen
Learn more about this collaboration between the International Olive Council and the Culinary Institute of America to advance Healthy, sustainable, delicious food choices -with a special focus on technical training and menu innovation for chefs.