As these markets indicated account for a large share of world production, the production prices paid on them have a significant bearing on prices elsewhere. Stay tuned with the IOC's economic information.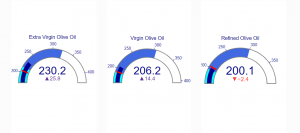 Bari, Italy, Chania, Greece and Jaén, Spain are the most representative olive oil markets of the European Union. They cover more than 60% of global olive oil production. Prices in these three countries, particularly in Spain, have an impact on other producing countries, and mainly on the oils they intend to export.
From the 2011/2012 crop year to the 2020/2021 crop year, extra virgin olive oil in Jaén, Spain cost less than €218.5 per 100kg for 25% of the time, and 25% of the time it exceeded €324.4 per 100kg. The average price in this period was around €275.7 per 100kg. The maximum and minimum prices were €423 and €174.3 per 100kg respectively.
The IOC's latest figures put extra virgin olive oil at €320 per 100kg (+63.9% compared to the same period previous crop year).
Further information are available on these links: