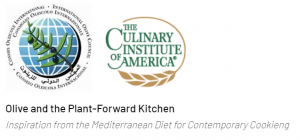 The Institute Culinary of America (CIA,) with support by and in collaboration with the International Olive Council (IOC) and in association with the Menus of Change University Research Collaborative (MCURC) has launched the digital media aspect of the project "Olive Oil and the Plant-Forward Kitchen": Research, Education, and Digital Media.
This week we propose "In the Heat of the Kitchen: Cooking with Olive Oil"
Cooking with olive oil offers endless opportunities for creativity and a lifetime of culinary pleasure. Learn which olive oil to use while cooking, as well as new techniques for sautéing, deep frying, and slow braising with olive oil.
For further information click on this link: https://www.youtube.com/watch?v=zvI8sFoKAqg
Find recipes, videos and more information at https://www.plantforwardkitchen.org/olive-oil-and-the-plant-forward-kitchen