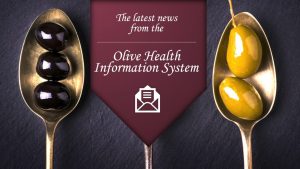 In March, the newsletter from the Olive Health Information System (OHIS), the portal set up by the IOC with the School of Medicine of the University of Navarra, brings us the latest scientific research on olives and olive oil.
In this issue, we cover topics such as mental health, EVOO-based diets for children and adolescents, and the properties of the components of olive oil. We also cover covid-19, the environment and intestinal flora.
There is no shortage of scientific findings; every day, we discover something new about this unique product. The elixir of life never ceases to amaze.
Enjoy reading the latest articles.
Children and adolescents
Healthy lifestyles and physical fitness are associated with abdominal obesity among Latin-American and Spanish preschool children: A cross-cultural study.
Quality of life related to health and habits: Differences between adolescents in rural and urban environments.
The association between modifiable lifestyle behaviour in Latin-American schoolchildren with abdominal obesity and excess weight. A comparison of Chile and Colombia.
Diet Quality Scores and Cardiometabolic Risk Factors in Mexican Children and Adolescents: A Longitudinal Analysis.
Impact of Mediterranean Diet Food Choices and Physical Activity on Serum Metabolic Profile in Healthy Adolescents: Findings from the DIMENU Project.
Determinants of Adherence to the Mediterranean Diet in Spanish Children and Adolescents: The PASOS Study.
Urinary metabolic biomarkers of diet quality in European children are associated with metabolic health.
Olive oil components
Edible oils from olive drupes as a source of bioactive pentacyclic triterpenes. Is there a prospect for a health claim authorization?
The intake of flavonoids, stilbenes, and tyrosols, mainly consumed through red wine and virgin olive oil, is associated with lower carotid and femoral subclinical atherosclerosis and coronary calcium.
Effects of Olive Oil and Its Components on Intestinal Inflammation and Inflammatory Bowel Disease.
Mental health
Adherence to Mediterranean Diet and Depressive Symptomatology among Boston area Puerto Ricans.
Adherence to the MIND dietary pattern and sleep quality, sleep related outcomes and mental health in male adults: a cross-sectional study.
COVID-19
Changes in the Lifestyle of the Spanish University Population during Confinement for COVID-19.
Gendered Impacts of the COVID-19 Pandemic on Food Behaviors in North Africa: Cases of Egypt, Morocco, and Tunisia.
Gut microbiota
The Impact of a Mediterranean Diet on the Gut Microbiome in Healthy Human Subjects: A Pilot Study.
The Gut Microbiome Modifies the Association Between a Mediterranean Diet and Diabetes in USA Hispanic/ Latino Population.
Mortality
Association of Adherence to the Mediterranean Diet with All-Cause Mortality in Subjects with Heart Failure.
Association of healthy lifestyle and all-cause mortality according to medication burden.
Glaucoma
Healthy Lifestyle Score and Incidence of Glaucoma: The Sun Project.
Environment
Adherence to the Mediterranean diet and its association with environmental footprints among women of childbearing age in the United Arab Emirates.
Kidney
Long-term consumption of a mediterranean diet or a low-fat diet on kidney function in coronary heart disease patients: The CORDIOPREV randomized controlled trial.
Others
Diet quality and exposure to endocrine-disrupting chemicals among US adults.
Adherence to the Mediterranean diet and its association with environmental footprints among women of childbearing age in the United Arab Emirates.
Why and How the Indo-Mediterranean Diet May Be Superior to Other Diets: The Role of Antioxidants in the Diet.
Benefits of the Mediterranean Diet-Wine Association: The Role of Ingredients.
Egg Consumption and Blood Lipid Parameters According to the Presence of Chronic Metabolic Disorders: The EVIDENT II Study.
Basic research
Diets Rich in Olive Oil, Palm Oil, or Lard Alter Mitochondrial Biogenesis and Mitochondrial Membrane Composition in Rat Liver.
Olive Oil Improves While Trans Fatty Acids Further Aggravate the Hypomethylation of LINE-1 Retrotransposon DNA in an Environmental Carcinogen Model.
Comparative Evaluation of the Phytochemical Profiles and Antioxidant Potentials of Olive Leaves from 32 Cultivars Grown in China.
Comparative Evaluation of Different Targeted and Untargeted Analytical Approaches to Assess Greek Extra Virgin Olive Oil Quality and Authentication.
Characterisation of Endogenous Peptides Present in Virgin Olive Oil.
Further information is available here: https://meddietolivehealth.com/news-by-topic/