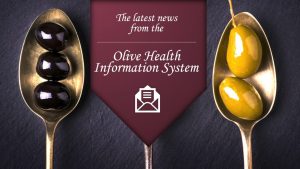 The February newsletter from the Olive Health Information System (OHIS) is now live. As you know, this health portal is the fruit of the collaboration between the Executive Secretariat of the International Olive Council and the medical school of the University of Navarra. It can be accessed directly from the IOC website by clicking on Health in the top left-hand corner next to the IOC logo.
We regularly update our readers with the latest news and discoveries in medicine, which can be read in more detail at https://meddietolivehealth.com.
For a quicker read you can also go to the links below. The selection of topics is particularly wide-ranging.
In this issue we cover mental health, cancer, liver disease, women's health, children and young people, nutritional status, cardiovascular disease, diabetes, the elderly and psoriasis, bone health and trends.
Feasibility and acceptability of a multi-domain intervention to increase Mediterranean diet adherence and physical activity in older UK adults at risk of dementia: protocol for the MedEx-UK randomised controlled trial – OHIS (meddietolivehealth.com)
Effect of green-Mediterranean diet on intrahepatic fat: the DIRECT PLUS randomised controlled trial. – OHIS (meddietolivehealth.com)
Nutrigenetic variants and response to diet/lifestyle intervention in obese subjects: a pilot study. – OHIS (meddietolivehealth.com)
Effect of Anti-Inflammatory Diets on Pain in Rheumatoid Arthritis: A Systematic Review and Meta-Analysis. – OHIS (meddietolivehealth.com)
Olive Oil Extracts and Oleic Acid Attenuate the LPS-Induced Inflammatory Response in Murine RAW264.7 Macrophages but Induce the Release of Prostaglandin E2. – OHIS (meddietolivehealth.com)