Milagros Urbina Rocha, minister-counsellor and head of mission at the Nicaraguan Embassy in Madrid, visited Executive Director Abdellatif Ghedira at IOC headquarters in Madrid.
The meeting was also attended by Mounir Fourati, the Head of the External Relations Department, and the Assistant to the Executive Director, Andoni Olano.
Several topics were discussed in the meeting, including the situation in Nicaragua and its progress towards developing and expanding the Nicaraguan economy. The Executive Director congratulated his guest for the country's good governance and for its initiatives to fight poverty, guarantee a decent life for citizens, and improve education and health.
As for the olive sector, the Chargé d'Affaires told the Executive Director about her government's intention to call on the expertise of the IOC to look into creating a programme to plant trees that are adapted to the climatic conditions of northern Nicaragua, where water resources are scarce. The strategy would favour the planting of olive trees, which are known for their sobriety and resilience.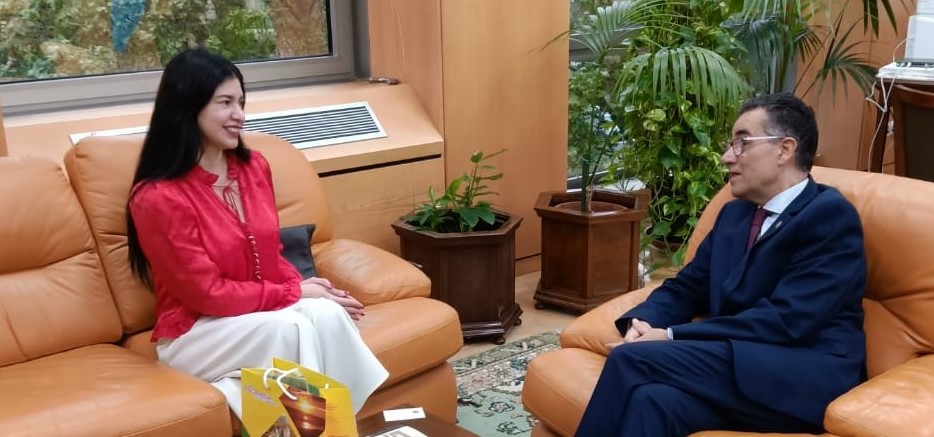 Mr Ghedira offered to provide data on the region, so that experts from universities that collaborate with the IOC can study the findings. A virtual meeting between experts from Nicaragua and the IOC could then be held to determine the objectives and agree on a roadmap that would allow the Organisation to provide assistance in line with its procedures and budget.
Ms Urbina Rocha thanked the Executive Secretariat for this proposal and said that the Minister of Agriculture of her country could consider participating in the meeting.
Souvenir photos were taken at the end of the visit.