Meeting in Cordoba to prepare the world catalogue of the main genetically authenticated varieties of olives  
The International Agreement on Olive Oil and Table Olives of 2015, which entered into force on 1 January 2017, is the driving force behind the activities of the International Olive Council.
With respect to olive growing, olive oil technology and technical cooperation, Article 2 of the agreement provides for, inter alia, 'activities for the identification, preservation and utilization of the gene sources of olive trees'.
With this in mind, the IOC is working on an ambitious project to develop a world catalogue of the main commercial olive varieties that have been genetically authenticated.
Five days of studies and meetings were held to analyse, study and achieve this important objective. The IOC delegation was led by Deputy Executive Director Jaime Lillo, who was assisted by the Technical Unit: Abdelkrim Adi, Head of the Olive Growing, Olive Oil Technology and Environment Unit; Pablo Morello, Head of the Olive Oil Technology and Environment Department; and Catarina Bairrão Balula, Head of the Technical Cooperation and Training Department.
From the University of Córdoba, Enrique Quesada, the Vice-Rector for Research and Territorial Development, participated with Dr Luis Rallo, Emeritus Professor of the University of Córdoba and coordinator of the IOC network of germplasm banks; Diego Barranco, Head of the UCOLIVO group; as well as Isabel Trujillo, Conchi Muñoz-Diez and Hristofor Miho.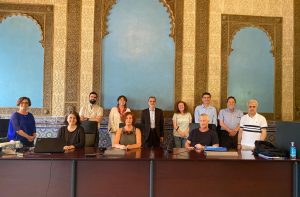 Other international experts in cataloguing olive varieties also attended, either in person or by videoconference:  Angelina Belaj and Raúl de la Rosa, researchers from IFAPA; Luciana Baldoni, Senior Researcher from National Research Council, Institute of Biosciences and Bioresources, Division of Perugia; Giora Ben-Ari, Head of the Department of Fruit Tree Sciences, Institute of Plant Sciences of the Volcani Center; Mehdi Housseini-Mazinani, Professor at the National Institute of Genetic Engineering & Biotechnology (NIGEB), Director, Olive Biotechnology Group; Bouchaïb Khadari and Magalie Delalande from the UMR Institut Amélioration Génétique et Adaptation des Plantes, INRAe; Georgios Koubouris, Researcher, Head Olive Cultivation Lab, Institute of Olive Tree, Subtropical Crops & Viticulture Hellenic Agricultural Organization DEMETER, NAGREF; Enzo Perri, Director, and Samanta Zelasco, Permanent Researcher, of the CREA Rende; and Lhassane Sikaoui and Sara Ouabli from the  Plant Breeding and Quality Research Unit, Regional Agricultural Research Center of Marrakech, from the Institut National de la Recherche Agronomique (INRA).
This catalogue will be drawn up through the True Healthy Olive Cultivars (THOC) project, which was developed within the framework of a Memorandum of Understanding signed by the IOC and UCO.
The network promoted by the IOC has more than 1 800 accessions and is currently the most diverse and extensive olive genetic resource structure in the world. Through its germplasm banks, which are representative of the varieties grown in the various regions, this network seeks to preserve the genetic variability of the olive tree by conserving, identifying and cataloguing plant material.